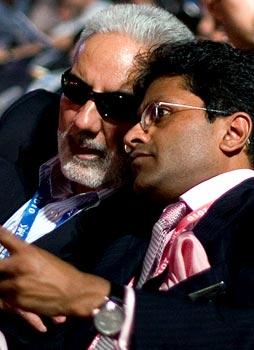 'The suspension of Modi was necessary for a free and fair inquiry. It's not a punishment. If his reply convinces the board, the inquiry proceedings will be dropped… if there are others guilty, we will sack them and take the same action,' BCCI president Shashank Manohar said after the IPL governing council meeting on Monday.
I am pleased to read the extracts of Shashank Manohar's press briefing wherein he has offered to be totally objective and impartial in the application of the rules and regulations of our Board.
The unfolding events of recent weeks have, undoubtedly, created a crisis that has been fueled by massive media frenzy. Indian cricket has come under threat. The uncontrolled cascade of public perceptions is threatening to tear asunder the wonderful fabric of cricket built thread by thread by many legends. This mosaic of cricketing leadership was woven by the blood, sweat and tears of on field galaxy of outstanding players and honorary officials working with missionary zeal and unwavering commitment.
I have been a keen follower of the game and an acute observer of leaders making their mark on the progression of Indian cricket. I was fortunate to step into the shoes of Mr. [Madhavrao] Scindia due to the efforts of many friends, including Mr. Jagmohan Dalmiya. This period witnessed the final breaking the monopoly of Doordarshan for broadcasting rights as per the 1994 decision of the Supreme Court. It was an epoch transformation that attained its full potential post change of regime in November 2005.
It was due to the marketing genius of a maverick -- Lalit Modi -- that Indian cricket finally emerged as a colossus in the international firmament in terms of reach and financial clout. Indian cricket became the epicenter of world cricket and the envy of the cricketing fraternity during this key phase.
Mr. Lalit Modi is unquestionably responsible for converting Indian cricket into a financial giant and for creating a truly global international brand in the IPL. His positioning, branding and commercial savvy puts the League in the ranks of true marketing icons akin to the many success stories dissected as case studies in leading business schools across the globe.
It is a sad surprise that he has suddenly become an object of vilification. All hell broke loose in the media based on some leaks from so called reliable sources within the Board and some statements made by principal players in the whole drama. It is disappointing that the vast majority of the media has so far not taken a balanced perspective to the affair.
I would have hoped for some deeper perspectives, research, and highlighting of the huge successes of the on field cricket during IPL. The IPL has, after all, galvanized the attention of the nation, the entire cricket playing world, reached new heights for TRPs, brand building, passion generated, and interest created especially amongst the youth and women.
This most successful global sporting brand has overnight became an object of ridicule and vilification in what was a veritable trial by media. Make no mistake, I am not sitting here to protect anyone or apportion blame at this stage. I would not like us to rush to judgment. My efforts will be directed to restore the confidence of billions of fans in Indian cricket and the Indian Premier League, as I do love the game and what it represents.
It is no wonder then that I have been feeling anguished and torn by the tragedy and irony of the past few weeks. For somebody who has been closely associated with the developments in the international cricketing arena since 1982, I cannot but painfully ponder how and why?
I feel some pain and affront that we are rushing to convict without following the principles our forefathers enshrined in our constitution and in our laws based on the British system of jurisprudence. Let us not forget that everyone is entitled to a fair trial. Indians are proud of our democratic sentinels for all citizens such as a fair trial, a free press, an impartial judiciary, etc., guided by sacred institutions established over centuries. What we have been taught as students and practitioners of constitutional law and English jurisprudence is being wantonly replaced by a system where people are willing to hang a person publicly without trial and recourse.
I can opine with conviction that part of the blame lies with our own cricketing fraternity for being an instrument in leaking all kinds of unconfirmed reports without veracity or merit. The media has been ready with the guillotine to hang the hero of the IPL. He has been accused of match fixing, rigging of bids, laundering of money, and all kinds of allegations pertaining to financial irregularities and dealings based on unsubstantiated evidence. India has started to feel like a Banana Republic in the realm of cricket administration as all kinds of experts and commentators have started pulling down the edifice so assiduously created by the assiduous bricklayers of Indian cricket.
It is numbing that many folks have broadcast accusations on various electronic networks in an attempt to seek fame by claiming that the Indian Cricket Board lacks transparency and is controlled by crooks and charlatans. Although I was in North America on a holiday, this chain of happenings and summons from some of the senior cricketing officials controlling the game prompted me to cut short my holiday.
I have painstakingly tried my level best to restore sanity but the feeding frenzy has spread and gained fuel engulfing the truth in a symbolic jungle fire provoking more heat in the tropical oven of India. I stare at the embers of the destruction hoping to reclaim and rebuild from the myths!
Many members of the public as well as my friends in both the print and electronic media, including some senior editors from India and abroad, have asked me for a point of view. I have been receiving innumerable messages from the Indian media and my reply has consistently been that I do not say anything off the record and do not believe in motivated leaks. I have told everyone that whatever I have to say will be parlayed at an appropriate time and in the best interests of cricket.
The time has arrived for me to post some appropriate questions that have been nagging my mind and have interest in the public eye. Let me be candid that I have been feeling disturbed because I cannot find answers to the myriad questions being posed at large by the public and media to me. The most frequently asked question of course:
Is Lalit Modi a builder of the greatest sporting brand in the world in a short span of three years or a villain who has undermined the foundations of the edifice of Indian cricket?
In the final analysis, I would like to make it abundantly clear that I hold no brief on behalf of Mr. Modi. Some of the issues which have cropped up concern some alleged violations of laws relating to FEMA and money laundering and some allegedly serious offences under the Indian Penal Code and are outside the jurisdiction of either the GC or the Working Committee of the BCCI or the General Body.
However, I am not going to prejudge the issue and in accordance with the constitutional and principles of jurisprudence enshrined in our democratic fabric I will refuse to hold anyone guilty before giving a fair opportunity. I refuse to be swayed by media frenzy in determining vital issues concerning the reputation of not only an individual but also a brand and the reputation of Indian cricket.
(Inderjit Singh Bindra is the president of Punjab Cricket Association and a member of the IPL governing council.)
Photographs: IPL/Getty Images