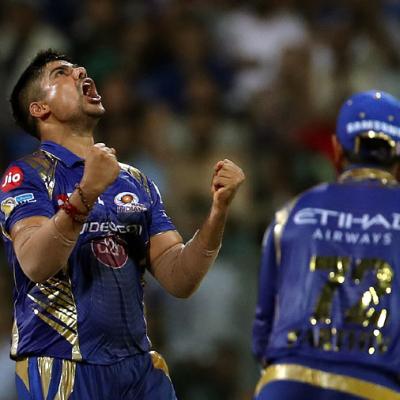 Yadav takes Pandya to the cleaners, he finally gets the big hit, a flat six to deep square leg.
The batsmen then take two quick singles.
10 runs come off the over.
Malinga comes back into the attack.
Jaggi tries to go after the bowler, runs down the track but misses the ball completely and it runs down to the keeper.
OUCH! Jaggi gets the ball right on his gloves.
Jaggi then gets one run to mid-off.
Yadav tucks the ball to the on-side for a single.
The batsmen then run off the final ball and that is 4 runs off the over.
The hat-trick ball from Karn Sharma was a superb one! Jaggi nearly edged it to the slip.
Jaggi gets off the strike with an easy single.
Yadav plays the ball down the ground on the off side for a run.
Jaggi gets another run and that is a over with just 3 runs coming off it.