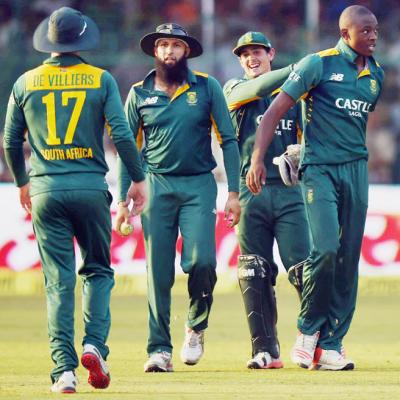 South Africa have done well to restrict India to 274 for 7 in the 50 overs, when at one point of time they were looking good for a 300-plus target.
India managed only 55 runs in the last ten overs and lost 4 wickets in that period, Lungi Ngidi being the pick of the bowlers for the Proteas.
Rabada comes in to bowl the last over and Bhuvi gets a single to long on.
Yadav then gets a bye, a single to the keeper as Bhuvi comes back on strike
Bhuvi tries to go after it and Miller fields it well at square on the leg side to keep it down to one run.
Yadav then takes a single. Bhuvi swings his arms and misses!
Bhuviu then gets a run to point for a single.
Only five runs come off the last over.
Ngidi continues and Dhoni gets a lucky four behind the keeper.
Ngidi then bowls the slower one, Dhoni mistimes and Markram goes full stretch to dismiss the batsman for 13 off 17.
Next ball is a wide. Bhuvi then takes a single to cover.
New man Yadav gets off the mark with a single to backward point.
Bhuvi gets a single to third man.
Yadav is beaten off the last ball of the over that produces 8 runs and a wicket.