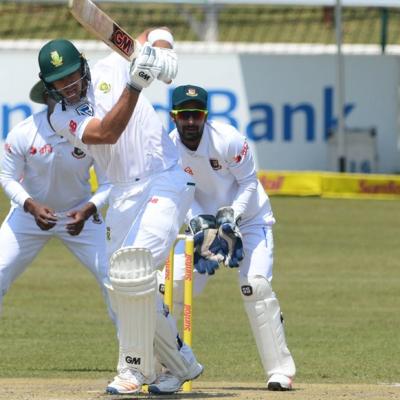 South Africa 36-0 (14 ovs) vs India | Scorecard
Drinks called after an hour of play and both teams can be lauded for putting up a solid show.
India's bowlers have teased the batsmen with that teasing length and line,w while the Proteas batsmen have done well to play each ball to merit and play sensibly.
Ishant continues and Elgar nearly plays on.
The bowler gets a nice movement across and the batsman is happy to let it go.
A short ball and Elgar plays it to cover point for a single.
Pandya given the ball now and replaces Shamo at the other end.
Wow! The ball changes direction after going past the batsman.
Pandya starts with a maiden.
Ishant continues.
He gives just one run as a beautiful contest between bat and ball brews at Centurion.
Shami continues, it's a half-volley and Markram plays it through mid-off for a four.
That is another four! Markram leans forward and plays it past extra-cover for a four.
Markram then plays the next ball off his pads for three down to deep square leg.
13 comes off the over.