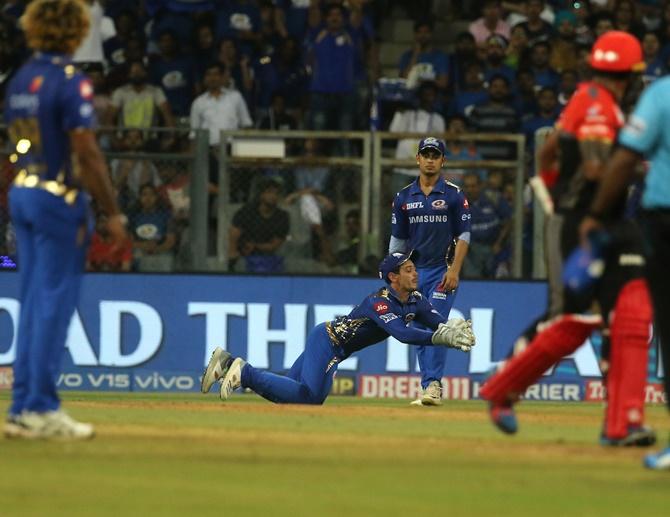 Mumbai vs Bangalore 171-7 (20 Ovs) | Scorecard
Bumrah continues. Nath does well to take a single. AB on strike, finds a gap and hammers the ball for four runs. AB is on fire. Another boundary. Two dot balls. Great pace and AB is beaten. Bumrah bowls a short ball and AB gets hit on his helmet. Single to end the over. 10 runs from the over. Bangalore 162-4 after 19 overs.
Malinga bowls the last over. Not a good ball from Malinga and AB sends it out in the park for a huge six. Confusion...AB takes single but wants another run. Direct hit from Pollard and AB is walking back. He scored 75 off 51 balls. Pawan Negi is the new batsman. Akashdeep tried to hit a big one but lacks pace. He hit is high up for de kock to take a brilliant catch. The youngster is gone scoring 2 off 3 balls. Negi on strike. Dismissed in the same fashion. De Kock takes another fine catch. Mohammad Siraj and Umesh Yadav are new batsmen. Yadav on strike and steals two quick runs. Bangalore 171 for 7.