Sport a Royal Moustache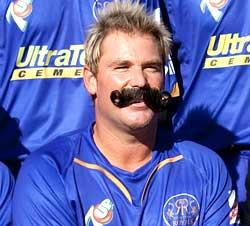 Rajasthan Royals, champions in the inaugural edition of the Indian Premier League, are also champions in promoting their side.

Shane Warne spearheaded the promos by sporting a royal moustache. India's north-western state of Rajasthan is possibly the only one in the country that has a moustache competition.

Even the team's mascot is called Moochu Singh, an urbane lion.

During the warm-up match against Nashua Cobras earlier this month, Warne had said if anyone wants to support Rajasthan Royals he/she should come to the veune sporting the Big Moustache.

You can be one of them. Click on the link below, download the big royal moustache. Then take a print out, stick it on a hard board, cut out the moustache and wear it as instructed in the PDF file.