Having guided Mumbai to a second Ranji Trophy title in three years, coach Praveen Amre is all geared up for a new challenge.
The former India batsman has been appointed assistant coach of the Mumbai Indians for the second season of the IPL and, as he says, will be the 'bridge' between the players and former South Africa captain Shaun Pollock, whose role in the team is that of mentor.
Amre, who scored a century on Test debut in Durban on the 1991-92 tour, also played for Boland in the South African domestic circuit in 1999 and hopes to use that experience to his advantage.
In a candid conversation with Special Correspondents Bikash Mohapatra and Harish Kotian, he talks on a variety of issues and also explains why he is confident of Mumbai Indians' chances in the upcoming tournament.
Congratulations. Now that you are assistant coach of the Mumbai Indians tell us how different is it from being coach of the Mumbai Ranji team?
The main difference lies in the fact that you are going to be more accountable.
The good thing is that I know most of the players, as they are either with Mumbai or with West Zone, or even at the junior level.
The rapport I have built over the last three years coaching Mumbai in the Ranji Trophy will be helpful. So I think that will be an advantage for me.
I was specifically given the role to ensure domestic players make a smooth transition to the next level. We now can see that in this format seven of the 11 players in the Mumbai Indians' squad will be from the domestic scene.
To be a champion in this format the domestic players have to play an important role.
Is your role clearly specified?
Yes, this is a different thing from being in charge of Mumbai (Ranji team); my responsibilities have been clearly mentioned from the very the outset.
I'll be a bridge between the domestic players and the mentor (Shaun Pollock).
I have got a role that I have done for the last three years and I'll give as much input and assessment as I can possibly give.
Do you think this Mumbai Indians side is a balanced one?
Yeah, definitely, this is more balanced team.
This side has a good mix of youth and experience. Then you also have a few players from South Africa.
It will be important to ensure that they play as a unit and go there and deliver.
What about the eventual composition of the team?
Only after adequate consultations are done (with Pollock and Jonty Rhodes) we will frame our team plan and decide on our team composition.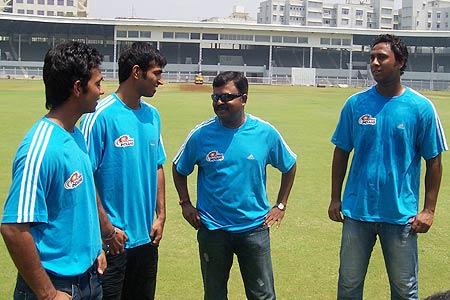 What's your opinion on Zaheer Khan joining Mumbai Indians from Bangalore?
I think he's a great addition to the side. He is a key player for the Indian team. Last season he did very well for Bangalore. Also crucial is the fact that he will be playing with his national team colleagues, like Sachin (Tendulkar).
I have coached him in the Ranji Trophy and his contribution in the final this year, when he took that five-wicket haul, was a significant one.
He gives his best whenever he plays and I think he will be the key bowler for us. His experience will be one of our biggest assets.
This is also going to be a learning experience for youngsters, playing in alien conditions… (Interrupts)
Exactly!
When I was the chairman of junior selectors, I always recommended players should go to Australia or South Africa,  because these countries offer the most challenging conditions to a cricketer, and your temperament and skills are tested.
I personally feel it will be a good experience for the upcoming cricketers. It's a challenge for them and it is up to them to go out there and perform and use this experience to a good effect when they eventually play for India.
In fact, this is also a good chance for them to do well and impress the selectors before the Twenty20 World Cup in England.
You seem quite confident?
Yes. The team had a stay of three weeks in South Africa and we will now be going two weeks in advance. That experience will be very important.
We would also be playing a couple of matches in Durban when we reach there on April 5. These are being arranged by Shaun and Jonty Rhodes (the fielding coach).
I think we (Mumbai Indians) are on the right track.
What is your assessment of the wickets in South Africa?
I would like to go there and see the conditions before giving my inputs, as it's the fag end of the domestic season in South Africa and the wickets may not be as fast at this time.
Only when we conduct the nets there will we be able to assess the situation.
Durban is going to host a bulk of the matches. Any memories of your debut hundred (103) in Durban?
Obviously. The first hundred is always a special memory for any cricketer. Also, we were the first Indian team to go there. That makes it even more special.
I also played domestic cricket there in 1999 (with Boland). It is also nice in the sense that whatever adjustment I made there as a cricketer, I can advise the youngsters during the course of the IPL. It is nice to go there again and play a different role.
Do you think the IPL, having been moved out of India, will find an audience?
I can guarantee good crowd support in Durban. Even Cape Town and Jo'burg have substantial Indian diaspora. And these are the three major venues.
So we can expect good crowd support.
Photographs: Harish Kotian