He was regarded as one of the best batsmen to grace the limited-overs game, but Michael Bevan never got a chance to prove his mettle in Twenty20 cricket. Even though cricket's latest version is also of the slam-bang variety, the former Australian left-hander feels there is a role for batsmen like him who don't believe in hitting every delivery out of the park.
Bevan's first taste of Twenty20 cricket was when he took over as coach of Chennai Superstars in the Indian Cricket League. Now, after disassociating himself with the 'rebel' league, he has set his sights on bigger challenges, like taking over as coach of one of the teams in the cash-rich Indian Premier League.
Chief Correspondent Harish Kotian caught up with the 39-year-old Aussie in Mumbai during the launch of the 2011 50-over World Cup.
Considering the growing popularity of Twenty20 cricket, do you think the 50-over World Cup will survive till 2011?
There is no doubt that Twenty20 is popular with the fans and players. It is really well-supported, an exciting format and grown very quickly. We haven't seen the drop-off in 50-over cricket, so we are just speculating that it might happen. It may or may not happen, but at this point of time we have not really seen it. The 50-over format is still popular in terms of people going to see it and people watching it on television. So it is hard to say anything at this stage.
But don't you think 50-overs-a-side cricket needs to provide more entertainment and undergo some drastic changes, like in the middle overs where the game gets very tedious?
Quite often you hear this from quite a number of people. I think, with the Powerplays and all such things, there is continuous innovation going on. There is always thought behind trying to change and improving it. So that can always be changed, but we will have to wait.
You were one of the top batsmen in ODIs during your playing career. Your main role was to take minimum risks and finish off matches. Do you see that role existing in today's cricket?
Not in Twenty20 cricket, for sure. But, having said that, I think there is still place for scoring singles and the number of scoring shots you have in an innings. Twenty20 is not only about hitting fours and sixes; it is about scoring off as many balls as possible, whether it is ones, twos, threes, fours or sixes.
It is probably not the way I played. In Twenty20 cricket you do want to score at eight-plus an over. The role of a number six batsman in one-day cricket is that if you lose a few early wickets, you have to bat through anyways; that doesn't really happen in Twenty20 cricket.
How important is it for modern day cricketers to be fit and agile, especially in the Twenty20 format?
Cricketers nowadays have to be athletes; that has been the case for a long time. They have to be able to field really well, run really fast between the wickets and throw well. That, at the end of the game, means they have picked up 5 or 10 runs, or given 5 or 10 runs. That is the difference between winning and losing.
Fitness is vitally important given the level of professionalism these days. It has become a really important element of Twenty20 cricket, or even Test cricket. That's because the aim of the game is to score as much as possible and get the other team out for as less as possible.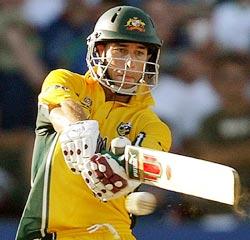 You were one of the best finishers in the one-day game in your prime. Many felt it would be hard to replace you. But Michael Hussey seems to have done quite well since taking over your role?
Michael Hussey was quite probably one of the best players in the world for a couple of years when he first entered international cricket. His performance was phenomenal. He probably even added another dimension to it. In terms of a batting line-up of six batsmen, you hope you have at least four good performers. Australia have had those many performers in the team.
Have you been contacted by Mumbai Indians to take over as coach for the next season of the Indian Premier League?
I have spoken with a couple of IPL teams about a coaching position. At this stage talks are at a pretty formative stage, so I am not too sure what will happen. Certainly, I have not been given any offers.
You worked with the rebel Indian Cricket League for the Chennai team. How was the experience of working with Indian domestic players?
I thought it was good. I have always toured India as part of the Australian team and always enjoyed here. Coaching with the ICL and coaching local Indian players helped me identify a different spectrum in your culture and allowed me to integrate more and understand how they approach their cricket. It gave me a better understanding of what I could offer as coach.
Whether it is IPL or ICL, one of the tricks is to bring the team together and be able to integrate them and get to a stage where players from different countries and different cultures appreciate the other guys, the way they approach their game.
It has been an interesting time coaching in Twenty20 cricket and also the players from different countries.
Considering that you had never played Twenty20 cricket, was it difficult to start off as a coach?
No, it was not difficult. I never played Twenty20 cricket, so I did not know how to approach it. I basically just asked them how they [the team] would like to approach it and I got my ideas off them and whatever they wanted to achieve.
I guess that is my style of coaching; it is more about them and what they want to achieve; that is the way I work.
What was the reason behind quitting the ICL and look to join the IPL? Was it the sanctions that forced your decision or was it taking a step forward in your career?
I was not too sure. I just felt that I would like to have the opportunity back in sanctioned cricket. Obviously, I am not coaching in mainstream cricket at this point of time and I had to take a chance and wait to see what happens.
Photographs: Reuters