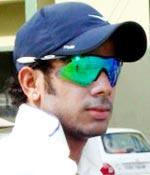 There's probably no player as unlucky with injuries as Manoj Tiwary. The Bengal youngster was on the verge of making his debut for India, against Bangladesh in 2007, but an injury during practice saw the opportunity vanish.
Then came a second major injury-blow, during the second season of the Indian Premier League earlier this year, just when he was named in the 30-man probables for the ICC World Twenty20.
But his fearless approach to batting, that makes him standout from the rest, brought him back into the reckoning with a berth in the team for the Emerging Players' tournament.
Compared with Kevin Pietersen for his ability to destroy bowling attacks, Tiwary has a simple approach to batting: "hit the bowlers and score runs quickly".
The 23-year-old Bengal right-hander, who is looking to impress the national team selectors, spoke with Chief Correspondent Harish Kotian before leaving for the upcoming tournament in Australia.
You seem to be very unlucky with injuries as far as your career is concerned. You were injured on the verge of your international debut against Bangladesh in a training session and then you got injured during the IPL second season. How frustration is it to miss games due to injury, especially when so much is at stake?
It is very frustrating, because, as a young cricketer, as an emerging cricketer, you know you are in the reckoning. When I first got injured in Bangladesh, I was aware that the very next day I was going to make my international debut. But right from a small age I have been a very mentally tough guy, so I said to myself let's keep going and all this is a part and parcel of life.
At that time it was very frustrating for me and the next eight months were very tough, because I was doing my rehab and had to do the same exercises everyday. I came out of that setback and did well in the Ranji Trophy; then I scored a hundred on debut in the Irani Trophy after my shoulder injury.
Then again, at the beginning of the IPL, I got injured during the second match of the tournament. I knew that I was in the 30-man probables for the Twenty20 World Cup and felt very bad to be ruled out because of injury.
You had a good run in domestic cricket last season, including the Ranji one-dayers. Then you were forced to miss the IPL because of injury, which means you have not had to much cricket lately. Despite that are you confident heading into the Emerging Players' tournament in Australia?
Definitely, I am confident, and I say this because after the injury I played a couple of matches in Kolkata in the club leagues. And I played a crucial innings of 60 not out against one of the best clubs in the league and helped the team get to the final. So I am quite confident and know that when given the opportunity, and the right place in the batting order, I will do well. I will make sure that I grab it with both hands and come up with a good showing for my side.
After going through such a horrific time because of injuries twice, are you a bit restricted while going through training sessions?
It is not like that, because I am a hostile kind of player. It does not matter to me at which ground we are playing. Normally before a practice session I say to myself, today I won't dive, so injury does not occur. But when I step on to the ground, if a ball is going past me, all that totally goes out of my mind.
Yes, you can say that I am a little bit restricted to start with, but once I begin to enjoy my fielding sessions I don't think about anything and just give my best. I am a firm believer in destiny and I think that if some injury has to happen it will happen no matter how hard you try and protect yourself.
How important is this tournament for a player like you, desperately looking to make a comeback to the Indian team?
It is a big tournament for me. As I said earlier, I got injured before or during major tournaments so I could not produce the results and show my true potential. I want to use this tournament as a platform to comeback into the reckoning for the Indian team; so it is crucial for me.
So how did you prepare for the tournament which will see the back-up players from Australia, New Zealand and South Africa compete on the fast wickets Down Under?
We had a good five-day camp in Bangalore, where we worked on every aspect of batting, bowling and fielding. I am feeling quite confident because I am hitting the ball well and that is important. So you can say I am fully prepared for the tournament and hope to do well.
You were called to the Indian ODI squad to replace Yuvraj Singh in the tri-series in Australia last year at very short notice. Can you describe how difficult was it to travel so much and then suddenly face the likes of Brett Lee on a pacy wicket in Brisbane?
To be honest, I don't have complaints about what happened, because, as a professional cricketer, you have to be ready all the time. I realise that I got the opportunity but failed to make it count.
It was difficult, because when you are going to an unknown country you don't have an idea about the surface or conditions. But, as I said earlier, being a professional you have to deliver whenever you are called up to play for your country, whether it is in England, Australia or any other country. You have to be prepared at all times. Unfortunately, I was not and didn't get enough runs. But it happens to everyone. After all, it is sport and you cannot expect every new cricketer to score a hundred on debut. It has happened to a few players, but I was not lucky then.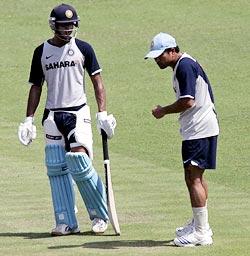 On the positive side, wasn't it a learning experience being in the Indian dressing room and interacting with players like Sachin Tendulkar, Virender Sehwag and Mahendra Singh Dhoni?
I learnt a lot from these experienced players. A lot of advice was given to me, especially by Sachinpaaji. When I got out early in my debut ODI he was the one who came up to me in the dressing room and said let us go out and watch the match from outside. After that he worked on my batting in the nets as well.
Many other players came up to me and encouraged me despite me not doing well in that game. They told me that such things do happen and I need to be patient and look for a second opportunity. Unfortunately, I didn't get a second chance because the tournament was so tight.
But I am happy that I learnt a lot of technical things and also how to prepare before an important match, which is proving to be quite helpful to me.
Do you also regularly interact with Sourav Ganguly, who also hails from your state, Bengal? People refer to you as 'Chota Dada' and believe you can be the next best thing from the state after Ganguly, who had such a magnificent career.
Whenever he comes to Eden Gardens I do meet up and chat a lot to him about cricket. Even when he came to Delhi for the Ranji Trophy Plate semi-finals he called me to his room and we spent half an hour chatting. He told me a lot of things about Bengal cricket, how to move forward in my career, how to be focussed all the time.
Ganguly is always there when I need him and his advice really helps a lot because he himself has played a lot of cricket. He is a legend and whatever advice or tips he offers definitely proves to be beneficial.
Who was your idol while growing up as a cricketer?
Sachin Tendulkar has always been my idol. As a small kid, when I saw him playing on television, I wanted to be like him.
I just love the way Kevin Pietersen plays and the way he approaches batting. People say I idolize him, but I only like his approach. Maybe, our thinking processes match too, because we both like to be positive.