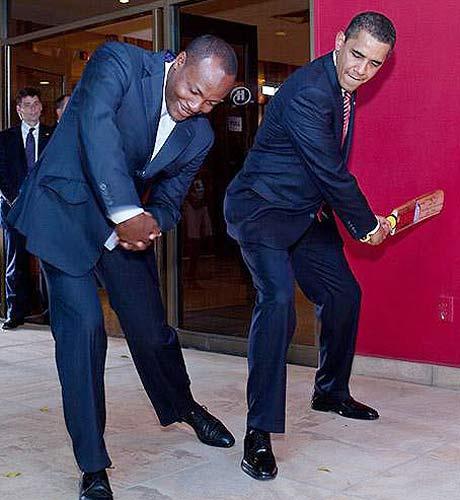 It was a meeting of the titans.
And those who witnessed it were fortunate as it is unlikely to happen again.
West Indies legend Brian Lara was seen giving Barack Obama a free batting lesson at the newly re-named Obama Terrace, Hilton Trinidad, St Ann's, on Sunday.
The world record holder also presented the United States President an autographed cricket bat, which read: "To the President of the United States, Barack Obama, in appreciation of your visit to T&T —Best Wishes" . 
Obama was in Trinidad for the Fifth Summit of the Americas and happened to meet Lara and share a few laughs besides posing for the shutterbugs.
Obama seemed keen to know more about cricket and the West Indies legend showed him the proper batting stance and gave a few tips regarding the forward defensive stroke as well as the classic cover drive.
Later, Lara revealed it was on the invitation of the White House that he met with Obama and that it was a great honour.
The latter on his part described Lara as the Michael Jordan of cricket.
"I always wanted to meet the Michael Jordan of cricket," is how president Obama apparently greeted Lara.
The batting great was also impressed with Obama's personality. 
Photograph courtesy: White House