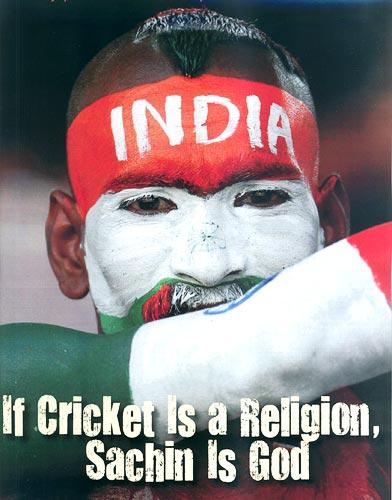 Every year on his birthday we keep wondering how long Sachin Tendulkar will continue playing for India. The master batsman turned 36 on Friday, and going by his recent performances in New Zealand and the ongoing Indian Premier League, it seems he is still good for a some more years.
Former India captain Nari Contractor on Friday paid tribute to the Little Master and expressed hope of him guiding the country to the title in the 2011 World Cup.
"After we were knocked out of the 2007 World Cup I was on a news channel discussion panel that was debating whether it was time for seniors like Rahul Dravid, Sachin Tendulkar, Sourav Ganguly and others to go. Even then I had said the only person who probably might make it to the 2011 World Cup is Sachin Tendulkar, and I still maintain it," Contractor said at Tendulkar's restaurant in Mumbai, at a function to launch the book, If Cricket is a religion, Sachin is God.
"If he manages to maintain his fitness and there are no injury problems then he should definitely make it to the World Cup. But should something happen to him and he is forced to miss the event it will be a big blow for Indian cricket," Contractor added.
Contractor played 31 Tests for India, from 1955-62, before his glowing career was cut short by West Indies fast bowler Charlie Griffith. The left-hander was struck on the skull by a bouncer from the bowler in a tour game against Barbados in 1962 following which he lay in hospital in a critical condition for a few days and needed several emergency operations to rescue him.
"I am just praying that he keeps fit till the World Cup, with no injuries, because at his age injuries will take time to recover. That is the only danger he faces... and I don't think any bowler is a danger for him," the former left-hand batsman said.
The 75-year-old said though Sir Don Bradman ranks as the best ever batsman the sport has seen, Tendulkar is not far behind.
"The one record that Sachin has achieved and which Don Bradman has not is that Sachin is the youngest to get 1000, 2000, 3000, 4000, 5000, 6000, 7000, 8000, 9000 and 10,000 runs in Test cricket. This is where he beats Don," he said.
Contractor though regrets that Tendulkar was not given enough support as captain.
"When Tendulkar gave up the captaincy of the Indian team it was a sad day for Indian cricket, because I believe he would have been a great captain. Any person with his dedication, commitment, application and experience would have done well as the captain. But, maybe, Tendulkar got frustrated as captain, which, in other ways, may have also been good, because, maybe, he would not achieved so much as a batsman if he was the captain."
But the most touching story of the day came from the book's co-author, Vijay Santhanam, who said Tendulkar played a big part in his recovery from a brain stroke.
"I suffered from a brain stroke nearly three years ago and it is thanks to my family, the hospital staff, my friends and my employers that I am on the road to recovery. In my hospital room I had this statue of Lord Ganesha and an autographed picture of Sachin Tendulkar, on which it was written: 'Get well soon. Our best wishes are with you.' That really inspired me a lot in my recovery process," said Santhanam, a bit inaudible because of facial paralysis from the stroke.
The book traces the remarkable story of Tendulkar, from his rise (1982-92) to zenith (1993-2003), and the fall (2005 to World Cup 2007) to resurrection (post 2007), and explains the reasons for his deification.
Image: Vijay Santhanam and Shyam Balasubramaniam's book If Cricket Is a Religion, Sachin Is God, which was released at Tendulkar's restaurant in Mumbai on Friday.