Even as quite a few players have sounded the impending death-knell of Test cricket in the wake of the huge popularity of Twenty20, Sachin Tendulkar, one of the game's icons, has said he does not fear for the health of the game's most traditional form.
The master batsman likened Test cricket as the main course in a meal and Twenty20 as its dessert and told Wisden  Cricketer magazine in an interview that one cannot survive on just the latter part of a meal.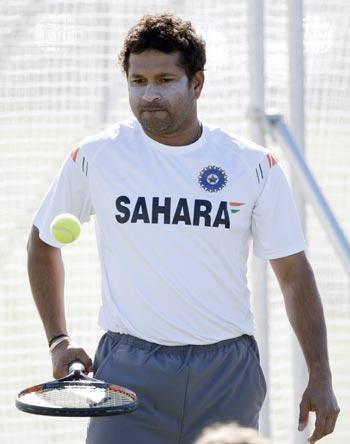 "There is no way Test cricket is dying. Twenty20 cricket is the dessert and you can't survive on that. Who wants to eat only desserts? Test cricket is my main course, with all the meat and vegetables, and then it is nice to have Twenty20 as a dessert," Tendulkar said.
The master batsman, who has earned crores in endorsement deals over several years, said he worries about the runs he would get and not about signing of lucrative contracts. 
"I started playing cricket at six with a tennis ball not because I wanted to be a millionaire but because I loved cricket. Maybe in 10 years or even now people will pick up cricket bats thinking only about the huge money in Twenty20 cricket.
"Money should just be coincidental. The passion and the desire are the most important thing. I worry about runs, not  contracts," he told the magazine.
Tendulkar also revealed that he had decided not to play Twenty20 internationals in order to prolong his Test and one-day career.
"I felt as though I would have been a loose link in the team, I couldn't do that to them. I was not sure I would last, there was something missing. If my body wasn't strong enough to last through the tournament then I couldn't play," he said. 
Tendulkar said the secret to his batting lies in keeping the mind clutter-free and his best efforts had come when his mind thought of the present and not of the future, which was not an easy thing to do.
"The toughest thing is to clear your mind. The mind always wants to be in the past or the future, it rarely wants to be in the present. My best batting comes when my mind is in the present but it doesn't happen naturally, you have to take yourself there.
"I am not able to get in that zone as often as I would like but, when you are there, you don't see anything except the bowler and the ball." 
As he grows older, Tendulkar feels, he has realised the importance of good breathing and relaxing while batting.   
"You have to allow your instincts to take over, trust me, your instincts are 99 per cent right but, you know, the older I get the more I realise how important your breathing is to good batting. By that I mean, if you focus on breathing and relaxing, you can force yourself into a comfortable place to bat," he declared.