The disastrous tour of Sri Lanka and rumours of discord in the team notwithstanding, Pakistan captain Younus Khan is confident that his side will either win the Champions Trophy next month or the 2011 World Cup.
After his team notched a consolation win over Sri Lanka in the fifth and final one-day international in Colombo on Sunday, Younus said he had a pool of 20 players in mind who will win either the Champions Trophy this year or the 2011 World Cup.
"The pool of players includes some talented players and if things go well and everyone including the board, selectors, team management and players fulfill their roles properly I am sure we can win one of the two big tournaments coming up," he added.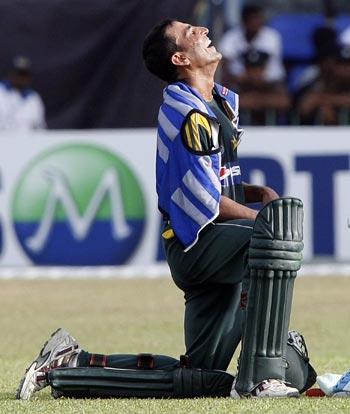 The senior batsman also made it clear that he would love to enjoy the same authority and powers that were once given to 1992 World Cup winning captain Imran Khan.
"When Imran was captain things were different. They were few people running the board, there were just a few selectors. Now the board has expanded, the selection committee has expanded and the captain cannot be the only one taking decisions," he said.
"So I don't think it is possible to get the same authority that Imran had. But if it can happen I would love to have that authority and call the shots because after the captain is responsible for everything," Younus said.
Younus also rubbished reports that he wanted to drop senior players like Mohammad Yousuf or Misbah-ul-Haq after the tour. 
"I have not thought on those lines because you don't drop quality players on basis of one bad series. But yes I want a situation where there is competition for places and we have young players capable of stepping in when required. I want to see senior players develop the spirit where they are willing to rest if they are not performing," he said.
Younus also criticised former players for fuelling speculations about differences in the team or about match fixing.
"If we perform badly I don't mind being criticised but the criticism should be logical and based on facts and figures it should not be personal. That only hurts the team. Some of our former players need to realize that," Younus said.