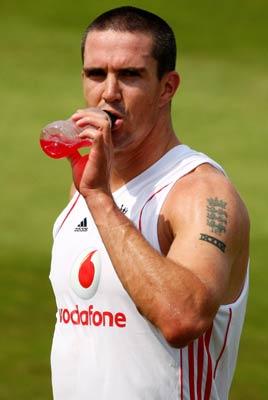 England batsman Kevin Pietersen, recuperating from surgery on his right Achilles heel, will miss the US $6 million Twenty20 Champions League in India from October 8 to 23.
Pietersen's name was missing from the 20-man list provided by his IPL franchise -- Bangalore Royal Challengers -- to the Champions League organisers on Thursday, according to a report in the Daily Telegraph.
The paper claimed Pietersen feared criticism from English authorities if he risked his fitness in the Champions League.
The flamboyant batsman, who missed almost half of the Ashes series against Australia because of surgery on his heel last month, will now have to wait until England's tour of South Africa in November to resume playing cricket.
Pietersen, who was bought by Vijay Mallya's IPL team Bangalore Royal Challengers for a whopping US $1.55 million, is believed to have aggravated the injury during the IPL in South Africa.
Paul Collingwood, selected by the Delhi Daredevils, has admitted he was still unsure if he would play in the tournament.
Champions League preliminary squads