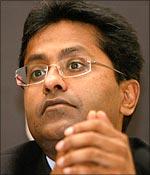 A week after his bid to regain control of the Rajasthan Cricket Association failed in an acrimonious election, Lalit Modi now faces a fresh crisis with a very powerful lobby within the BCCI plotting to remove him from the Indian Premier League (IPL) commissioner's post.
Modi, who has successfully conducted two editions of the IPL and filled the BCCI coffers with his marketing acumen, has been having problems with some of the key BCCI functionaries for some time now.
According to sources, the move to remove Modi as the IPL commissioner and chairman has been gaining momentum within the board.
"There is a move within the BCCI to remove Modi as IPL chairman and commissioner. The argument is that the IPL is a BCCI event and logically the BCCI president should head it as an ex officio member.
"It does not mean that Modi will have no role at all in the running of the IPL but it is only that he should not be heading the show," the source disclosed.
Although no BCCI official is willing to go on record on this development, it is learnt that BCCI secretary N Srinivasan, known to be at loggerheads with Modi, is in the forefront of this campaign.
The move has not yet come up for formal discussion in the Working Committee meetings but is being pursued privately to garner support.
"These things are not discussed in Working Committee meetings where only items listed in the agenda are taken up for deliberation. But yes, behind the scene, it is discussed," the source said.
Modi, who was given virtually a free hand to run IPL, his brainchild event, during Sharad Pawar's tenure as the BCCI president, has not enjoyed the same status after Shashank Manohar took over.
Attempts to clip Modi's wings started from the second edition of the IPL, which was staged in South Africa because of the general elections in India.
The first such attempt was made when the BCCI decided to terminate the contract of IMG as the event manager for IPL.
Modi, however, got seven of the eight franchises to rally behind him and wrote letters to the BCCI questioning the merit of the decision. The only franchise which did not send such a letter was Chennai Super Kings, co-owned by Srinivasan.
Pawar himself was critical of the decision and it was a letter from him that tilted the scale in Modi's favour and BCCI subsequently renegotiated the deal with IMG in which the event management company's fee was reduced from Rs 33 crore to Rs 27 crore.
Meanwhile Modi, aware of the changing equation within the BCCI top brass, is learnt to have extended the olive branch to his one time nemesis Jagmohan Dalmiya.