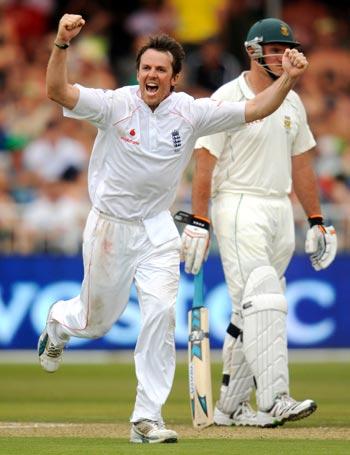 England ran out South Africa captain Graeme Smith among a burst of three quick wickets to reduce the hosts to 175 for five on the first day of the second Test on Saturday.
Smith and Jacques Kallis made solid half-centuries to rescue their side from deep trouble at 10 for two but both fell in quick succession before bad light ended the day's play early with England on top.
Smith fell for 75 after playing a defensive stroke to a ball from Graham Onions, AB de Villiers impetuously charging through for a single before sending his captain back and leaving him stranded.
Smith had shared a third-wicket stand of 150 with Kallis, who made a century in the first Test, which lifted South Africa after a poor start.
They scored just 15 runs in the first 13 overs as England made light of losing the toss by removing Ashwell Prince and Hashim Amla.
But Kallis increased the scoring rate as he compiled his 52nd Test half-century, hitting seven fours and looking poised to score another century when he was deceived by a delivery from off-spinner Graeme Swann, and edged it to Paul Collingwood at slip.
De Villiers incurred his captain's wrath three overs later and Onions gained reward for his accurate seam bowling by trapping JP Duminy leg-before-wicket for four with a fine swinging delivery.
De Villiers, on eight, and Mark Boucher on one, were the not out batsmen at the close.
South Africa made a poor start after winning the toss when England removed Prince and Amla.
Seamer James Anderson made a good-length delivery leap off the pitch at Prince and the left-hander sent an edge fizzing to Swann at third slip.
Amla tried to play a straight delivery from Stuart Broad on the on-side and was trapped lbw for two.
England's fast bowlers held sway for the first hour on a pitch that always threatened the batsmen with its pace and bounce.
Smith was struck a painful blow on the left hand by Anderson, but he and Kallis, settled in to take their side to 67 for two at lunch, and 151 for two at tea.
The first Test of the four-match series ended in a draw.
Scorecard
South Africa first innings
G Smith run out 75
A Prince c Swann b Anderson 2
H Amla lbw b Broad 2
J Kallis c Collingwood b Swann 75
A de Villiers not out 8
J Duminy lbw b Onions 4
M Boucher not out 1
Extras (lb-8) 8
Total (for five wickets; 61 overs) 175
Fall of wickets: 1-3, 2-10, 3-160, 4-166, 5-170.
Bowling: Anderson 12-2-32-1, Onions 15-4-40-1, Broad 10-1-28-1, Swann 19-1-44-1, Trott 4-0-19-0, Pietersen 1-0-4-0.