England's hero at Lord's, Andrew Flintoff, could end up needing artificial knee if he is not managed with care, feels a leading knee surgeon.
Derek Bickerstaff, a leading surgeon who operated on both Simon Jones and Michael Vaughan, feels Flintoff's injured knee has begun a degenerative process that will be difficult to arrest and since the cartilage has no capacity to heal itself, Flintoff may need an artificial joint within 20 years.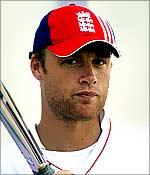 "I thought Flintoff was absolutely fantastic at Lord's. But I would advise against everybody getting too excited and thinking that his problem has somehow been solved," Bickerstaff was quoted as saying in the Daily Telegraph.
"The nature of the injury is that it waxes and wanes. All credit to the medical staff, who did some injection therapy to reduce the inflammation. But there is such a short gap between the Edgbaston and Headingley Tests that he will have virtually no rest in between.
"I know everybody will be disappointed if Flintoff breaks down again, but he only has to catch that sore area the wrong way and it will start to become badly irritated. He will be in most danger when fielding. At least the bowling action is predictable, even if he is pounding a lot of weight down on that knee six times an over," he added.
Flintoff's case is similar to former Essex and England fast bowler Neil Foster, who suffered from cartilage problems in his left knee for the last four years of his career.
The 47-year-old pacer has since had an osteotomy, an operation where the leg is broken and the knee realigned so that the worn parts of the joint are no longer rubbing against each other. He has also been told that he could need an artificial knee in seven or eight years time.
"Every ball really hurt but you get used to it and battle through. For the first couple of years it was painful but okay and I had an operation to tidy it up every six months. In the last year it was beyond the pale. Also the level of my performances dropped so that I was taking two wickets per innings rather than five," Foster said.
Bob Cottam of Warwickshire and England also needed to put an artificial joint after his right knee collapsed at Lord's when he was just 21.
From that moment, he used ice-packs - the old-fashioned equivalent of cortisone injections - after every session of play until his retirement at the age of 32.