Despite his meteoric rise to the top of ICC Test batting charts, India's star opener Gautam Gambhir admits that maintaining consistency is becoming increasingly difficult given the hectic international schedule these days.
The elegant left-hander said failures were bound to come by as players need to constantly change their mindset from one format to the other in the cramped calendar.
Gambhir last week became only the sixth Indian to occupy the ICC Test top rankings in his fifth year of international cricket but the Delhi batsman said he cannot afford to get carried away with the achievement.
"Now a days we are playing so much cricket, which keeps changing in the three formats quickly. It's difficult to consistently perform for anyone because we play so much of cricket, that too in changing format," Gambhir told PTI in an interview on Wednesday.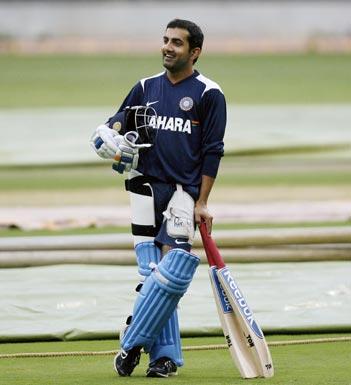 The 27-year-old opener, who made his international debut in November 2004 against Australia, was, nonetheless, excited about his Test numero uno status as well as the news of being recommended for Arjuna Awards, both coming in a space of one week.
"No one can expect to reach the top so soon and no one can plan it either. It just happens. But it's really very exciting to be on top," Gambhir said.
"It's a great honour. Even till one-and-a-half-year ago I never expected to get the (Arjuna) award. But it's indeed a great motivation and a proud moment," Gambhir said after it was known that he was among Arjuna Award winners. 
Gambhir, who contributed to India's rare series wins on foreign soils, said he believed in living in present and would not think much about past or the future. 
"You have to be in the present. That's the biggest key to do well and to prepare well," he said. 
The Delhi Daredevil player, who could not impress much in the IPL or the Twenty20 World Cup, said failures did not affect him anymore after facing criticism in the initial phase of his career. 
"I have taken everything in my stride. We played Test cricket just before the IPL which started in Twenty20 format after just a few days' gap. It's very difficult to change your mindset so quickly and be at the peak of your game," said Gambhir.
"The more you play, the more you are bound to fail. No one can keep the intensity always," he said. 
Asked how was he utilising the close to two-month break, Gambhir said he was not thinking about cricket at all to keep himself in right frame of mind for the tough year ahead. 
"At the moment I am on complete break and not at all thinking about cricket because I want to be in right frame of mind when I resume the game. You have to be very tough mentally to survive in international cricket," he said.
"We have another tough year coming up ahead and I want to be excited about cricket rather than feeling exhausted," Gambhir said. 
Asked if he was working on any specific area of his batting, Gambhir, who will start practice in the first week of August, said "I just want to be successful in international cricket where everyone is constantly studying your game and working on it to trap you. So you need to keep improving physically, mentally and technically." 
Gambhir, who has on various occasions lavished praise on his opening partner Virender Sehwag, said the two had it in them to make an outstanding combination. 
"In international cricket you should know your role and stick to it than thinking about who's your partner in which series," he said when asked about his understanding with Rohit Sharma or Dinesh Karthick in absence of an injured Sehwag. 
"Yes, it does make a difference to have Sehwag at the opposite end of the crease because you always want to have a very good understanding with your partner. I am more relaxed with him at the other side because I can go and talk to him.
It is something very different, something which is needed to make successful combinations", he said. 
On India' failure to defend the Twenty20 World Cup, Gambhir said "It was just one of the tournaments in which we did not do well."
"No other Indian team has won eight or nine series in a row. If you look at the larger picture, it is a very big achievement. We beat New Zealand in New Zealand and the West Indies in West Indies which was not easy," Gambhir said.
Asked if injuries, tiredness from IPL or controversies, had any role to play in India's early ouster from the tournament, Gambhir said "nothing at all".
"Even if we were exhausted we have given our 100 per cent, there was not shortage of effort from any players' part," he added.