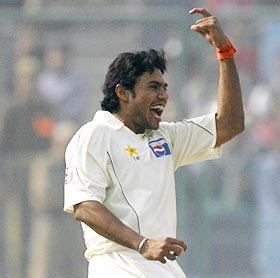 Pakistan bowler Danish Kaneria has been found guilty of breaching the International Cricket Council Code of Conduct following a hearing in Colombo on Tuesday.
Kaneria was charged under Level 1.4 of the code, which refers to "using language that is obscene, offensive or insulting" during the second day of the ongoing Test against Sri Lanka.
At the resultant hearing, Alan Hurst of the Emirates Elite Panel of ICC Match Referees gave him an official reprimand after the player pleaded guilty to the charge and warned him about his future conduct.
The charge related to an incident that took place after Kaneria had taken the wicket of Angelo Mathews in the 45th over of Sri Lanka's first innings. After taking the wicket, the bowler was heard uttering an expletive, which was loud enough to be heard by both on-field umpires and also picked up by the stump microphone.
The incident was reported by on-field umpires Ian Gould and Simon Taufel of the Emirates Elite Panel of ICC Umpires as well as third umpire Gamini Silva and fourth umpire Rohitna Kottahachi.
"Swearing is expressly forbidden by the ICC code and in this case it was picked up by people present at the ground and the television microphones so the potential for negatively influencing spectators or viewers at home, including children, is clear," said Hurst.
"Danish knows what he said was unacceptable but in coming to my decision I took into account the fact that he apologised both immediately after the incident and in the hearing. I am also content that the action was not directed at the batsman or any other individual and that the action was one more of frustration than anger. That is why the penalty is at the low end of the scale for Level 1 offences," he said.
For Level 1 offences, penalties range from a reprimand up to a fine of up to 50 per cent of the player's match fee. For Level 1 offences, the match referee's decision is final and binding -- there is no right of appeal.
Present at the hearing was the match referee, the player, the umpires, Pakistan captain Younus Khan and Pakistan team manager Yawar Saeed.