Pakistan's interim selection committee on Wednesday snubbed controversial speedster Shoaib Akhtar and recalled disgraced pacer Mohammad Asif to the preliminary 30-member squad for the ICC Champions Trophy, in South Africa later this year.
The interim selection committee, headed by former Test captain Wasim Bari, also announced the squad for the ODI series in Sri Lanka and Shoaib Akhtar did not feature there as well.
The interim selection committee, which also includes captain Younis Khan, vice-captain Misbah-ul Haq and coach Intikhab Alam, sprang a surprise by naming Asif for the Champions Trophy.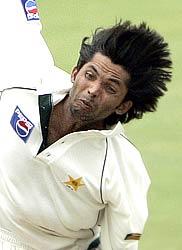 Asif is serving a 12-month ban for failing a dope test during last year's Indian Premier League; the suspension ends on the day the Champions Trophy begins.
A spokesman of the Pakistan Cricket Board insisted that the authorities had the required clearance from the International Cricket Council and the drugs inquiry tribunal of the IPL before naming Asif, whose ban ends on September 22.
Asif was last month fined by an inquiry committee, also headed by Bari, Rs one million for his 19-day detention in Dubai last year for possessing opium.
Asif has not played any cricket since last July, when the Pakistan board also clamped a blanket ban on him for the failed dope test and Dubai incident.
Meanwhile, Shoaib Akhtar's omission from both the squads should come as a shock for him, as indications were that he would be considered for the Champions Trophy despite recent fitness and disciplinary issues.
Pakistan's selectors have also called up former Indian Cricket League recruits Imran Nazir and Rana Naved for the one-day series in Sri Lanka and Champions Trophy.
They, along with Mohammad Yousuf and Abdul Razzaq, resigned from the rebel league in late June and returned to mainstream cricket after paying a fine.
As expected, the selectors omitted leg spinner Danish Kaneria from the one-day squads and included rookie players, including batsman Umar Akmal, in both the squads.
Akmal, the younger brother of Pakistan wicketkeeper Kamran Akmal, scored three centuries on the recent Pakistan A team's tour of Australia.
The squads:
Sri Lanka ODI series: Younis Khan (captain), Misbah-ul Haq, Mohammad Yousuf, Nasir Jamshed, Imran Nazir, Shoaib Malik, Kamran Akmal, Shahid Afridi, Fawad Alam, Abdul Razzaq, Rao Iftikhar, Umar Gul, Saeed Ajmal, Mohammad Aamer, Umar Akmal and Rana Naved.
Champions Trophy preliminary squad: Younis Khan(captain), Misbah-ul Haq, Salman Butt, Nasir Jamshed, Imran Nazir, Shoaib Malik, Khalid Latif, Azhar Ali, Mohammad Yousuf, Kamran Akmal, Sarfaraz Ahmed, Umar Amin, Umar Akmal, Shaharyar Ghani, Shahid Afridi, Abdul Razzaq, Rana Naved, Yasir Arafat, Fawad Alam, Umar Gul, Mohammad Aamir, Abdul Rauf, Mohammad Asif, Mohammad Talha, Rao Iftikhar, Wahab Riaz, Saeed Ajmal, Abdul Rehman, Mohammad Hafeez.