England's women's cricket team scripted history on Sunday by winning a World Cup double after a comprehensive six-wicket victory over New Zealand in the final of the inaugural Twenty20 World Cup.
England, who had won the ODI World Cup in Australia in March, produced a clinical bowling and batting performance against the Kiwis at Lord's to hold world titles of the two shorter formats of the game.
The home team first skittled New Zealand out for a paltry 85, thanks mainly to right-arm fast bowler Katherine Brunt's three for six from four overs, and then chased down the target in 17 overs, reaching 86 for four.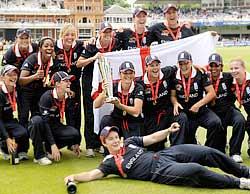 England's in-form batter Claire Taylor top-scored with a 32-ball unbeaten 39 while wicketkeeper Sarah Taylor chipped in with 23.
For New Zealand, Sophie Devine, Sian Ruck, Kate Pulford and Nicola Browne took a wicket apiece.
"To win a World Cup at home is very special. Katherine bowled brilliantly. It was a good toss to win. We got our best performance on the field and it came in final," Edwards said at the post-match ceremony.
Edwards also praised New Zealand for their consistent show in the tournament.
The Kiwis were also undefeated before coming to the final.
"They are a good team. They were also unbeaten and we were lucky to beat them," she said.
England batswoman Taylor was adjudged Player of the Tournament for her brilliant batting throughout the tournament. She scored 199 runs in five matches, including a scintillating 76-run knock against Australia in the semi-final.
"It has been an amazing few months for England. It was a good chase and great to play at Lord's.
New Zealand skipper Aimee Watkins rued the batting collapse for the defeat.
"It was a disappointing performance today. We underestimated the pitch. A score of 120 might have been a fighting total. Our bowlers did well, created chances but we did not have enough runs on the board," she said.
Player of the match Brunt was delighted with her bowling.
"It was a good bowling effort. I managed to get some swing. It was not a high score (to chase). We bowled well and it was an amazing crowd. It's great to win at home," she said.
Scorecard
New Zealand:
 S Bates st S Taylor b Marsh 1
 L Doolan c S Taylor b Brunt 14
 A Watkins b Brunt 2
 A Satterthwaite c C Taylor b Shaw 19
 R Priest c & b Brunt 0
 N Browne b Shaw 1
 S McGlashan c Greenway b Gunn 9
 S Tsukigawa c S Taylor b Gunn 5
 S Devine run out 10
 K Pulford c C Taylor b Edwards 14
 S Ruck not out 0
 Extras: (B-1, LB-4, W-4, NB-1) 10
 Total: (all out in 20 overs) 85
 Fall of wickets: 1-2, 2-10, 3-23, 4-23, 5-31, 6-48, 7-58, 8-62, 9-84, 10-85.
 Bowling: L Marsh 4-0-16-1, K Brunt 4-1-6-3, N Shaw 4-0-17-2, H Colvin 4-0-16-0, J Gunn 3-0-19-2, C Edwards 1-0-6-1.
 England:
 S Taylor c Priest b Pulford 23
 C Edwards b Ruck 9
 C Taylor not out 39
 B Morgan c McGlashan b Browne 6
 L Greenway b Devine 3
 J Gunn not out 2
 Extras: (LB-1, W-3) 4
 Total: (for 4 wkts in 17 overs) 86
 Fall of wickets: 1-19, 2-39, 3-70, 4-74.
 Bowling: S Devine 3-0-12-1, S Ruck 4-0-17-1, K Pulford 4-0-20-1, S Bates 2-0-8-0, N Browne 3-0-18-1, L Doolan 1-0-10-0.