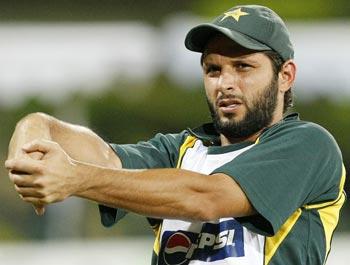 All-rounder Shahid Afridi smashed a rapid 70 and took two wickets as Pakistan eased to a 138-run victory over New Zealand in the first One-Day International in Abu Dhabi on Tuesday.
"(Afridi) is a fantastic performer," Pakistan captain Younus Khan told reporters.
"The last couple of years he worked well with the bowling but now his batting is there, so it's good for Pakistan," he said.
Pakistan, who won the toss and opted to bat first, recovered from an awful start to pile up 287 for nine.
Fast bowler Shane Bond dismissed opener Salman Butt and Younus without a run on the board before Mohammad Yousuf, who was dropped on 12, and Khalid Latif steadied the innings with a stand of 57.
Yousuf was run out for 30 but after Umar Akmal was dismissed for nine, Latif (64) and Afridi added 101 for the fifth wicket.
After Afridi departed Kamran Akmal chipped in with an unbeaten 67, including four sixes, to lead Pakistan to an imposing total.
New Zealand opener Brendan McCullum was dropped twice before fast bowler Umar Gul bowled him for 21 and Gul struck again moments later dismissing Martin Guptill for four.
Ross Taylor and Scott Styris also fell cheaply to leave New Zealand struggling on 50 for four.
Aaron Redmond (52) and Daniel Vettori (38) added 69 for the fifth wicket but their hopes of victory were quickly extinguished when Afridi took two wickets in two balls and with the tail-enders offering little resistance, New Zealand crumbled to 149 all out.
The second game in the three-match series is also in Abu Dhabi on Friday.
The series is being played at neutral venues after New Zealand refused to tour Pakistan this year because of security concerns. Their Test series will be played in New Zealand from November 24 but designated 'home' Tests for Pakistan.
"Although we have a lot of supporters in Dubai and Abu Dhabi, we still need to play some games in Pakistan. I hope that we'll soon play again in Pakistan," Younus said.
Scorecard
Pakistan:
 S. Butt c B. McCullum b Bond 0
 K. Latif b Vettori 64
 Y. Khan c B McCullum b Bond 0
 M. Yousuf run out 30
 U. Akmal b Vettori 9
 S. Afridi c Butler b Oram 70
 K. Akmal not out 67
 A. Razzaq c Styris b Butler 26
 U. Gul run out 0
 M. Aamer c B McCullum b Southee 0
 S. Ajmal not out 0
 Extras: (lb-8, w-11, nb-2) 21
 Total: (for nine wickets, 50 overs) 287
 Fall of wickets: 1-0, 2-0, 3-57, 4-75, 5-176, 6-184, 7-270, 8-271, 9-277
 Bowling: Bond 10-2-61-2 (w-3), Southee 10-2-54-1, Butler 7-0-54-1 (nb-2, w-2), Oram 10-0-47-1 (w-1), Vettori 10-1-34-2, N. McCullum 3-0-29-0
 New Zealand:
 B. McCullum b Gul 21
 A. Redmond lbw b Ajmal 52
 M. Guptill b Gul 4
 R. Taylor c K Akmal b Aamer 0
 S. Styris c sub b Razzaq 5
 D. Vettori b Afridi 38
 J. Oram b Razzaq 9
 N. McCullum lbw b Afridi 0
 I. Butler run out 4
 S. Bond not out 4
 T. Southee b Ajmal 1
 Extras: (1b-8, w-2, nb-1) 11
 Total: (all out, 39.2 overs) 149
 Fall of wickets: 1-30, 2-34, 3-35, 4-50, 5-119, 6-139, 7-139, 8-139, 9-144
 Bowling: Aamer 7-1-15-1, Gul 6-3-24-2 (nb-1), Razzaq 9-1-38-2, Afridi 10-0-46-2 (w-2), Ajmal 7.2-0-18-2.