"Last two questions, if you have any," asked Mahendra Singh Dhoni, just as the scheduled post-match conference was winding up.
The wry smile on the Indian captain's face even as he asked the above question suggested he knew what to expect. His team had again flattered to deceive.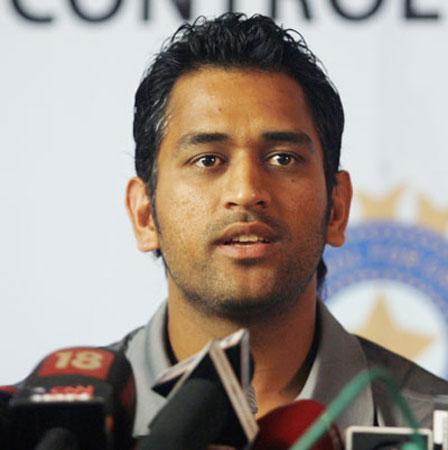 All the hype and hoopla around beating this under strength Australian outfit and regaining the top spot on home soil came to a nought.
Team India had lost three successive matches, the latest being at Guwahati on Sunday, and with it had surrendered the Hero Honda Cup to the visitors while also allowing them to continue being atop the rankings.
It was time for Dhoni to face the reality - a reality that was harsh but certainly not something that he had hitherto never experienced. And the captain, more recently seen looking for excuses for his team's inept efforts, for once was brave enough to accept the thing as it was.
"You have to win games to be the No 1 side. I think, losing games and not winning the series, that in itself says everything," admitted Dhoni.
If there was a resignation in this particular admission, the statement that followed exuded hope - after all, hope springs eternal for India cricket, which is why it continues to flourish despite the defeats.
"It is important to win every series, every game and the ratings will take care of themselves," said the captain. "It is not that we are too much behind.  We have much cricket coming up and we will get the opportunity to be No 1 again."
The captain albeit admitted the team had lost the plot completely in this series.
"There were a couple of games we should have won," he explained. "Had we won them the scenario would have been different.
"But it is past and nothing can be done about it. At the end we have lost the series. We did well in patches but couldn't grab the opportunities that came our way."
About the Guwahati game, in particular, Dhoni was spot on as to where his team had lost the plot.
"27 for five was a bit too much," he admitted, before adding, "I thought if we lose maybe one or two wickets, as there was a bit of movement early on, it would still be decent because you had the chance of getting back with a seventh batsman on board. We have also seen Bhajji and Praveen contributing to a certain extent.
"It was difficult to come back after that. Even 150 was looking very difficult but we were fortunate to cross the mark after that."
Looking back at the performance, or rather the lack of it, Dhoni was very candid.
"I think we are lacking consistency in our batting," admitted the captain. "We haven't backed the opportunities that we have got. A majority of the batsmen haven't contributed at the same time. In the games where our top order didn't perform, our middle order also didn't bat well.
"I won't blame the bowlers too much as the conditions were favourable to the batsmen. Still they could have done a fraction better."
However, Dhoni denied that there was any complacency in the Indian team considering it was a makeshift Australian outfit.
"Not really. We never talked about what was going on in the Australian camp, which players were getting injured and were going back," he explained. "We knew what trouble we were going through and we were trying to rectify that." The Indian captain also refused to admit that this was one of the worst defeats for his team.
"No. I wouldn't say that. I think the last time they were here, we lost the Baroda game quite badly," said Dhoni. "We have also lost a few other matches badly.
"And there will be more such defeats in the future as it is cricket and anything can happen."
The last statement did suggest when a captain is in admission mode, he tends to be honest and generous in his use of words.