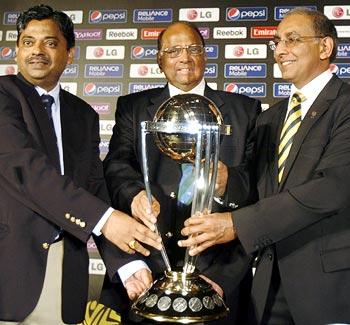 Revenge will be foremost on India's mind when they square up against hosts Bangladesh in Dhaka in the opening match of the 2011 World Cup on February 19.
It was Bangladesh who shocked India by five wickets -- which eventually brought about their early exit from the last edition of the tournament -- and Mahendra Singh Dhoni and his boys will surely be keen to settle scores.
Defending champions Australia, winners of the the last three editions of the Cup, are placed in Group A and start their title defence against minnows Zimbabwe in Ahmedabad on February 21.
A total of 49 matches will be played in the 43-day tournament tournament, which was reallocated following the International Cricket Council's decision to drop Pakistan as a co-host because of security concerns.
India will host 29 matches at eight venues, including the final at the Wankhede stadium in Mumbai, a semi-final in Mohali and a quarter-final in Ahmedabad, while Sri Lanka will stage 12 matches at three venues, including a semi-final in Colombo and a quarter-final.
The Opening Ceremony will be held on February 17, in Dhaka, which, besides the opening match, will also stage two quarter-finals and six group matches.
International Cricket Council chief executive Haroon Lorgat is hoping the shorter format and reduction in number of teams would boost spectator interest after the last tournament was criticized as being too long and boring.
"The tournament has been made shorter with just 14 teams involved two lesser than last time while it is also shorter than the last event by a week," Lorgat said in Mumbai on Monday at the launch of the schedule.
ICC vice-president Sharad Pawar, who is also the chairman of the Central Organising Committee of the 2011 World Cup, assured that all the venues will have top class facilities for players, spectators and the media.
"We have allotted 50 crores to all the stadiums in India to be ready for the 2011 World Cup. Let me assure you that India will be ready for the World Cup. Wankhede stadium will be built and ready in time and I can assure you that all the stadiums will be spectator friendly and also player friendly and will boast of being the state of art stadiums," Pawar said.
This will be the third World Cup in the country after the 1987 World Cup that India hosted and the 1996 World Cup co-hosted by Pakistan, Sri Lanka and India.
Pakistan will play all their group matches in Sri Lanka. They begin their campaign against Kenya on February 23 in Hambantota, one of the two new venues in Sri Lanka. However, if they make it to the final, to be played at the Wankhede stadium in Mumbai on April 2, Pawar said the Indian fans would be glad to welcome them despite a thaw in relations between the two countries currently following the terror attacks in Mumbai last November.
"There is no exception whether it is Pakistan or any other team. I am confident the sport loving population of this country will welcome anybody who reaches the final," he said.
The first match in India will see New Zealand taking on Kenya in Chennai on February 20, while India's first match in front of home fans is against England at Kolkata on February 27.
The top four teams from each group progress to the quarter-finals, which will be played in Dhaka on March 23 and 25, in Colombo on March 24 and in Ahmedabad on March 26.
The two semi-finals will be played in Colombo and Mohali on March 29 and 30 respectively with the under-construction Wankhede stadium in Mumbai scheduled to host the all-important final on April 2.
The groupings:
Group A: Australia, Pakistan, New Zealand, Sri Lanka, Zimbabwe, Canada, Kenya
Group B: India, South Africa, England, West Indies, Bangladesh, Ireland, Netherlands.
Match schedule