The first Test between India and Pakistan in Karachi, which began on November 1989, was memorable for some Indian players.
It was Kapil Dev's 100th Test, making him the first bowler to then play so many matches.
Mohammad Azharuddin stepped in for Raman Lamba and sealed a near permanent spot in the Test side.
On the first morning, a fanatic attacked Indian captain Krishnamachari Srikkanth, who escaped unhurt.
But the reason the Test will always, always, be remembered is because it was the first Test for a 16-year-old resident of Sahitya Sahawas, a housing colony for writers and their families in Bandra East, north-west Mumbai.
Yes, it was the first time the cricketing world glimpsed Sachin Ramesh Tendulkar in a Test.
On the occasion of the legend's 20th anniversary in international cricket, Manoj Prabhakar, who also played that Test (bagging five wickets), salutes Sachin.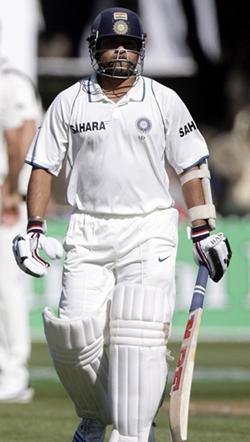 "Very early on in that first tour it became obvious to everyone that this kid was here for the long haul. Both Indian and Pakistani players were showering praise on Sachin," recalls Manoj Prabhakar.
The teenager handled the Pakistani fast bowlers with aplomb. "The way he played that deadly attack was fantastic. The kid showed he had the guts to perform at that level. Some senior Pakistani players said: "Yaar, bachcha kahan se pakad ke aaye ho? Is ki lag laga na jai (From where did you get this kid? Nothing should go wrong for him)."
Early on in the match, Tendulkar was hit on the face by a fierce Wasim Akram delivery. Prabhakar remembers a follow-up incident in Sharjah a few years later.
"Akram hit Sachin on the head once again in Sharjah. The next ball disappeared even before Akram could finish his follow through. That is Sachin. He can say everything without speaking a word."
Though the 1989 series unveiled the legend-in-the-making, Prabhakar remembers Tendulkar from a year before. When he heard that a 16-year-old would be joining him on the tour to Pakistan, the Delhi all-rounder instantly knew who it was.
"We (Delhi) were playing Bombay. Maninder Singh was bowling fantastically. Then, out of nowhere, this kid jumped out of his crease and hit Maninder for a six. I was shocked, because when Maninder was on song, even an experienced batsman could not step out to him. He was striking the ball well. It reminded us of Sunil Gavaskar."
Tendulkar, who came in after the spinners had come on, scored about 30-odd runs in that game, but did not face Prabhakar.
"I don't think he had enough patience at that time," says Prabhakar, adding, "He was looking to score all the time. I did bowl to him soon after in another domestic match."
Prabhakar was determined to get him out.
"I tried a slower ball. He hit me for a six. I then tried a bouncer. He hit me for a six. That is when I realised that this kid is not easy to get out. My frustrations that day must have been shared by a lot of international bowlers in the years to come."
Another early trait, Prabhakar points out, that stood out in Tendulkar was his body language.
"His body language was very positive... sort of arrogant. When he was on the field, if you did not look at his face, you wouldn't know it was a kid. He walked and behaved like an adult," Prabhakar, off whose bowling Tendulkar took his first-ever Test catch, says.
Though the opposition may have been taken in, Tendulkar's on-field aggression never fooled any of his senior teammates.
Sample this story with a touch of innocence.
"After the Pakistan series we were touring Zimbabwe. Sachin and I were batting together and we went to the toilet during a break. When I was done, I saw Sachin was still standing there. I asked him what the matter was. He said, 'Yaar, aa nahi raha hain' (Friend, it's not coming out)."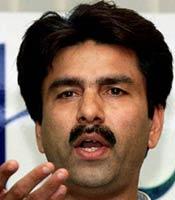 The teenager then asked Prabhakar to turn on the tap.
"Listening to the water running got him going. When he came out I asked him if he was done."
"'It was just like when I was a child and some elder person in the family had to make a hissing noise for me to pee,' he said."
Prabhakar wishes Tendulkar, who will turn 37 next April, at least five more years of international cricket.
"If you keep fit, nobody can touch you. You are not a Gooch or a Border (Englishman Graham Gooch and Australian Allan Border, two batsmen who were still playing when they were a year short of 40 and pushed by the selectors to quit). Whatever you achieve from here on is your own milestone," Prabhakar tells Tendulkar through this feature, adding, "You only live one life as Sachin Tendulkar. Don't miss anything in that. Don't quit till you are convinced it is the end."
"I want him to get 100 international centuries. I know it is not easy, but it is also not very hard for Sachin!"