Sachin Tendulkar is a great batsman but to suggest he is the best ever is demeaning to those former greats who survived the bodyline series and stood at the crease without any modern-day safety gears, feels former England skipper Mike Atherton.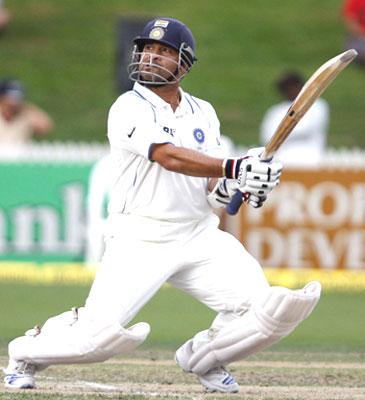 "To suggest that Tendulkar -- or, indeed, any modern, armoured or, to use (Viv) Richards's phrase, "pampered" player -- is the best ever is demeaning to those former greats who stood at the crease in the knowledge that their next ball could be their last," Artherton wrote in The Times.
Atherton feels modern-day protections have made life easier for current batsmen compared to those of the yesteryears and so it remains to be seen how Tendulkar's career would have shaped up if these gears were not available.
"Images of Tendulkar have adorned newspapers and websites throughout the week. Images, mostly, of the 'Little Master' at the crease, compact and balanced. So compact and balanced, in fact, that Bradman said Tendulkar was the modern player whose method most closely resembled his own.
"There was, though, one crucial difference, which the image of Tendulkar on these pages on Monday highlighted. Perched on top of Tendulkar's head ... was a bright blue helmet and a grille to protect his features.
"Tendulkar was batting in a One-Day game, but had the image been of him batting in whites, there is a good chance that, along with a helmet, Tendulkar would have been wearing an arm guard and a chest guard, too. He is always amply protected," he wrote.
"Which is not to say that Tendulkar lacks bravery. Indeed, he proved his 'manhood' in his first Test series when Waqar Younis bloodied his nose and Tendulkar refused treatment and carried on batting," Atherton said.
"He wore a grille from then on, though, so that when James Anderson sent a ball crashing into it at Trent Bridge in July 2007, Tendulkar was able to shake his head and carry on as if he had been hit with a wet sponge," he added.
Atherton believes Tendulkar would be inconvenienced if he steps on the field without a helmet.
"Tendulkar's method suggests that he would be little inconvenienced by not wearing a helmet. He does not hook, nor does he plunge on to the front foot. And he watches the ball like a hawk.
"Nevertheless, would he have lasted as long, would he have scored as many runs, would that blow to his face by Anderson would not have affected his confidence in any way? We cannot know for sure.
"Bradman's average plummeted in the Bodyline series, when the need for raw courage was added to the equation. A few modern players would suffer, too.
"The ball is no softer now and the bowlers no less quick, but standing at the crease knowing that you can be killed demands a different level of courage from the realisation that you might just get hurt," he added.
© Copyright 2023 PTI. All rights reserved. Republication or redistribution of PTI content, including by framing or similar means, is expressly prohibited without the prior written consent.