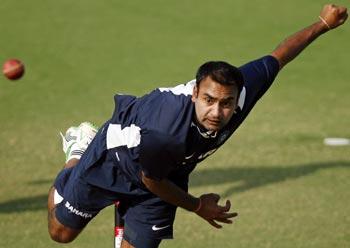 Former India captain Sourav Ganguly on Saturday said India should retain Amit Mishra notwithstanding the suggestions that the leg-spinner should be replaced in the second Test against Sri Lanka from November 24-28.
The Indian spinners were off colour and bowled wayward giving away the advantage to Lankans in the first Test at Motera in Ahmedabad but the ace left-hander feels there was no point blaming the duo of Harbhajan Singh and Amit Mishra.
"Performance should not be judged on basis of just one match. He (Mishra) should play in the second Test," said Ganguly.
In the same vein Ganguly said, "Harbhajan Singh is a class bowler and one should not write him off. He will surely bounce back."
"There was hardly anything for the bowlers in the wicket at Motera. They did not get any assistance from the pitch," Ganguly said.
"For us to win the second Test (at Green Park) the bowlers have to do well," Ganguly said at Eden Gardens.
Ganguly, who will feature in the Bengal line-up for their fourth Ranji Trophy Super League match against Saurashtra, said they would be looking forward to a win in the home match to be held from November 24-27.
"It's a tough match ahead. We have to get full points from the match to stay ahead," Ganguly said.