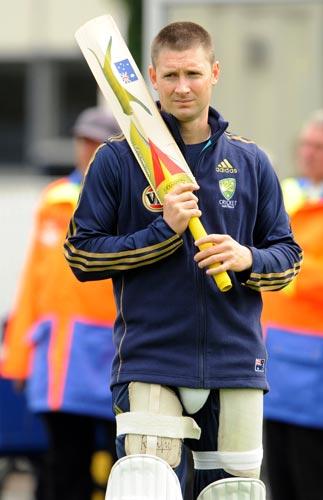 Michael Clarke should never become a Test captain, considering his injury worries and Ricky Ponting's desire to lead the national side to England for Ashes revenge in 2013, feel former Australian greats.
Clarke, who returned to the Test squad after recovering from a back injury, expressed his desire to lead Australia in Test after Ponting calls it quits but former wicketkeeper Ian Healy said the 28-year-old has yet to prove he is durable enough to bag the top job.
"Michael Clarke hasn't convinced me that he's durable enough to be a captain," said Healy, the long-serving deputy to Mark Taylor, was quoted as saying in the Daily Telegraph.
"Clarkey has to get on the field - that's an issue he has to address before we ask who should replace Ricky. Michael has missed a lot of games lately and that's not a good sign. He should not come into the equation at all until Ricky Ponting wants a succession plan," he added.
Healy found an ally in former Test captain Kim Hughes, who expressed concern about Clarke's health.
"Ponting's efforts in India is some of the best leadership I've seen in decades. He was simply magnificent. To triumph in India, when we were 2-1 down, with all the injuries, his leadership was outstanding," said Hughes.
"Michael Clarke is getting experience, but there must be a question mark over him now with his back. The danger is that Clarke, because of his degenerative back injury, he might only be able to play Test cricket," he added.
Ponting, who turns 35 next month, is hell-bent on atoning for the back-to-back Ashes loss on English soil, and Healy supported him.
"I would like to see Ricky Ponting muster the energy to go to the next Ashes and get that right. His team is going particularly well in one-dayers and it's a bit wobbly in its transition in Test cricket. I'd like to see Ricky oversee that Test team because that's where we've got work to do," Healy said.
"I don't think anyone can be sure of the next leader. That's the issue. You don't want your deputies aspiring to the leadership. They are two totally different roles, being a deputy and being a captain. You don't want your deputies playing the role of a captain.
"You want the deputy making sure the atmosphere in the dressing room is spot on, while the captain is worrying about the other stuff. Ricky has had the most challenging era of captaincy in the last 25 years.
"It's very similar to the role Allan Border had to play. He was fast running out of senior players and Ricky has done exceptionally well rebuilding the side," he added.
According to Hughes, if Ponting leads Australia in 2013 Ashes in England, Clarke would be too old to be considered for long-term captaincy.
"If Ricky goes until the next Ashes in England, Michael Clarke will be 32 or 33. Who knows, someone else could come along and be a captaincy contender. I don't think Ricky should be under any pressure," he said.