- Scorecard: India vs Sri Lanka, 2nd Test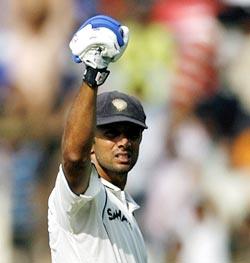 India, spurred by three centuries from their top order, put up a mammoth first innings total and claimed an early wicket to continue their domination over Sri Lanka in the second Test, at Green Park, in Kanpur, on Wednesday.
Tillakaratne Dilshan was dismissed by Zaheer Khan, caught by Pragyan Ojha, off the first delivery of the Lankan first innings, but captain Kumar Sangakkara (30 from 80 deliveries) and Tharanga Paranavitana (30 from 64) rallied the innings, guiding Sri Lanka to 66 for 1 after 24 overs at stumps on Day 2.
Earlier, Rangana Herath claimed five wickets as India were dismissed for 642 in 154 overs in the first innings. The hosts lost their last six wickets for 29 runs, Herath claiming five for 121 in 33 overs.
In the morning, Rahul Dravid went on to score a fluent 144 from 226 deliveries, inclusive of 15 boundaries and a six, before he was unluckily run-out. VVS Laxman hit one straight back to the bowler, who dropped the catch, but the ball ricochetted on to the stumps, catching Dravid, who had advanced, out of his crease.
The former India captain, after scoring 138, also attained another landmark, surpassing Allan Border (11,174 runs in 156 Tests), to take fourth position in the list of highest run scorers in Test cricket.
Yuvraj Singh hit two sixes and four boundaries, scoring 67 in 105 deliveries, before he was taken at midwicket off Ajantha Mendis after tea. His wicket saw the Indian tail-enders collapse tamely, as Herath claimed the wickets of Zaheer and S Sreesanth to finish off the Indian innings.
Openers Gautam Gambhir and Virender Sehwag had smashed 167 and 131 respectively in an attacking partnership of 233 runs in 251 deliveries on Day 1 to lay  the foundation for India's huge total.
Morning session: (30 overs, 118 runs, 2 wickets)
Sri Lanka opened the second day with pacers at both ends, having taken the new ball a few overs before the end of the first day's play.
India's first boundary of the day came courtesy an inside edge through fine leg when Dravid nearly played on to his stumps to a delivery that kept a bit low off Angelo Mathews in the second over of the day.
Dravid completed his century, his 28th in Test cricket, in style when he drove Welegedara straight down the ground. This was Dravid's third century in a row; he took just 172 deliveries to reach the landmark, which included 10 boundaries.
Muttiah Muralitharan was introduced in the eighth over of the day and immediately Dravid cashed in, slamming a short delivery for a boundary through the covers.
Sri Lanka's sloppy display on the field continued as they dropped yet another catch. Tendulkar, on 30, tried to flick Mendis through the leg side but Dilshan at midwicket failed to hold on as he flung himself to his left. They had dropped Sehwag in the first over of the match on day one and he made them pay big time. It remained to be seen whether Tendulkar would also make the most of the opportunity.
Tendulkar broke the shackles as far as his innings was concerned when he stepped down and slammed Mendis for a six over mid-off. The veteran had gone without a boundary for 86 deliveries and was even dropped in the previous over before deciding to take on Mendis.
But he failed to make most of that dropped catch and it was not long before he hit one straight to Thilan Samaraweera while attempting to hit Mendis over the cover region. On a pitch where the top three batsmen had scored centuries, Tendulkar never came to grips and managed just a six in his 90-ball innings of 40. (464-3, 102.5)
Despite his struggle, Tendulkar was involved in a 94-run stand for the third wicket with Dravid, proving that even if you stayed on this wicket, the runs would come.
Meanwhile, Dravid was having a feast on the flat track, hitting boundaries in consecutive overs from Muralitharan and Mendis, as India reached 475 for three in 105 overs. Interestingly, Mendis managed a maiden over against Dravid in the 107th over of the innings, the first maiden over by a spinner in 58 overs between the three spinners till this point.
It seemed Dravid had taken the over mantle of keeping the boundaries flowing on day two as he stepped down the wicket and hit Rangana Herath for a six over mid-on to move to 129.
Laxman got his first boundary when he opened the face of the bat and guided Mendis through the vacant third man region and Dravid followed suit with a similar shot for yet another boundary in the over.
Dravid took two runs in the next over from Mendis to reach 138 and go past Allan Border (11,174 in 156 Tests) to fourth position in the list of highest run scorers in Test cricket.
The former India captain's innings came to an unfortunate end when he was run-out at the non-striker's end. Laxman hit one straight back to the bowler Herath, who dropped it, but ended up ricocheting the ball on to the stumps at the non-striker's end, catching Dravid out of the crease.
Dravid walked back annoyed after a splendid innings of 144 from 226 deliveries, inclusive of 15 boundaries and a six, helping India keep the momentum going on day two. (511-4, 113.2)
With two new batsmen at the crease, the spinners seemed to have found their confidence as Mendis and Muralitharan beat the batsmen with sharp turning deliveries in successive overs.
India continued to target Mendis and this time it was Yuvraj Singh who lofted him straight down the ground for a huge six in the 118th over. Suddenly, after a few quiet overs, India stepped up the run rate again as Laxman bisected the gaps at cover off Muralitharan for his second boundary of the innings.
At the lunch break, India were comfortably placed at 535 for four in 120 overs, having dominated all the four sessions in this match so far. Laxman was unbeaten on 24 from 47 deliveries, while Yuvraj Singh was not out on 13 from 23 deliveries as both looked quite settled.
The spinners had nothing to show except that Mendis managed to claim a wicket for figures of one for 135 in 29 overs, while Muralitharan took two for 133 in 27 overs.
Post-lunch session: (29.4 overs, 104 runs, 3 wickets)
Sri Lanka started with left-arm pacer Chanaka Welegedara after lunch and he nearly did the trick but Laxman's edge flew low and wide off first slip for a boundary.
The stylish right-hander though found the middle of the bat, using his wrists to flick Welegedara through midwicket for his second boundary of the session.
Sri Lanka kept the runs down using a defensive field, as just 22 came in seven overs after the lunch break. The two batsmen brought up their 50-run partnership in 87 deliveries for the fifth wicket as both dealt mainly in singles, with the field spread out.
Yuvraj's patience finally wore out as he slog-swept Muralitharan's doosra for a huge six over midwicket, his second of the innings, to take India to 571 for four after 129 overs. He got his first boundary of the innings when he slammed a short delivery from Mendis through midwicket and followed it up with another one through the third man region.
Laxman completed his second half-century in a row in 92 deliveries with a single on the leg side off Muralitharan in the 133rd over. Without really trying the big shots, Laxman caused Sri Lanka a lot of grief with his sweetly-timed drives, as was proved when he played a delightful cover drive off Muralitharan for a boundary in the 135th over.
Yuvraj brought up his half-century, his fourth against Sri Lanka, off 69 deliveries, with a single on the off-side as the ball fell short of the first slip fielder in the 138th over.
Laxman survived a huge leg before wicket appeal when Herath beat him with the arm delivery that kept a bit low, but the umpire ruled in favour of the batsman. But Herath had his man in his next over when Laxman stepped out and holed out to Dilshan at mid-off for 63, inclusive of five boundaries in his 121-ball knock. (613-5, 141.1)
Laxman and Yuvraj added 102 runs for the fifth wicket in 27.5 overs as Sri Lanka managed to control India's scoring rate somewhat on day two.
On a pitch where every batsman had scored at will, captain Mahendra Singh Dhoni came undone. He was beaten by a delivery from Herath that skidded straight and went between the gap between the bad and pad to bowl him for 4 from 15 deliveries. (619-6, 145.2)
Yuvraj kept the scoreboard moving with swept boundaries in consecutive overs off Muralitharan and Herath to take India to 633 for six after 148 overs.
But at the other end wickets kept tumbling as Harbhajan Singh fell to the last delivery before the tea break for 5. It was Herath's third wicket of the innings and the second one with that straight, quicker delivery that went through the gate and bowled the batsman. (639-7, 149.4)
Yuvraj finished unbeaten on 66 from 98 deliveries as India finished the second session on 639 for seven in 149.4 overs.
Those three wickets helped Herath improve his figures to three for 118 in 30.4 overs with all the three wickets coming in his last five overs.
Muralitharan, with two for 175 in 37 overs, and Mendis, with one for 162 in 36 overs, were the other wicket-takers.
For the fifth straight session, the Indian batsmen had managed to score more than 100 runs in the session, but they were not ready to declare their innings yet.
Post-tea session: (28.2 overs, 69 runs, 4 wickets)
Yuvraj survived a huge leg before shout after tea against Herath as the ball struck him on the off-stump and looked to be missing the stumps.
The left-hander could not do much damage after the break as he was caught by Kumar Sangakkara at midwicket, attempting a pull shot off Mendis. Yuvraj scored 67 from 105 deliveries, inclusive of four boundaries and two sixes, but could not force the issue after tea. (641-8, 152.2)
Herath then polished off the tail with two wickets in his next over to finish with a five-wicket haul.
Zaheer stepped out and tried a wild swing across the line only to get the outside edge and was caught by Mahela Jayawardene at first slip for a duck.
Three deliveries later, Herath trapped Sreesanth leg before wicket for a duck as India were dismissed for 642 in 154 overs.
Herath finished with respectable figures of five for 121 in 33 overs, all the five wickets coming in his last six overs.
Mendis took two for 162 in 38 overs, while Muralitharan claimed two for 175 in 37 overs as the Indian tail failed to wag.
India lost their last six wickets for 29 runs in the space of 13 overs but despite that had finished with a huge first innings score, which came at a good scoring rate of four runs per over.
(Sri Lanka innings)
India got off to a dream start with the ball as Zaheer dismissed Tillakaratne Dilshan with the first delivery of the innings. Dilshan tried to play on the leg side but got a leading edge and was taken by debutant Pragyan Ojha, who ran in from mid-on. (0-1, 0.1)
Kumar Sangakkara got Sri Lanka off the mark with a powerful cut shot off a short delivery from S Sreesanth in the second over.
Tharanga Paranavitana got off the mark by crashing a full delivery from Sreesanth through the covers for a boundary off the 13th delivery he faced, in the fourth over of the innings.
While Zaheer bowled a probing line and length at the start to claim one for three in three overs, Sreesanth struggled to keep it tight, giving away 16 runs in three overs, as Sri Lanka posted 19 for one after three overs.
Sangakkara got his second boundary when he flicked a full straight delivery from Zaheer through square leg in the ninth over.
Harbhajan Singh was introduced into the attack in the 12th over of the innings and immediately trouble Sangakkara with a couple that gripped and turned. A few overs later, Pragyan Ojha got his first taste of Test cricket when he came on in the 17th over with Sri Lanka having recovered from that early wicket to reach 48 for one after 16 overs.
Harbhajan switched to round the wicket in the 18th over and immediately struck Sangakkara on the pads, but the umpire turned down the huge appeal. The Sri Lankan captain hit a wide delivery from the off-spinner for a boundary to take Sri Lanka to 53 for one after 20 overs.
Paranavitana then went after Ojha as he swept the left-arm spinner for a boundary through the midwicket region in the next over.
Sri Lanka played out the remaining overs without any further damage as they closed the second day on 66 for one after 24 overs, with both Sangakkara and Paranavitana unbeaten on 30 each.
For the first time in the match, the bowlers made some sort of impression, as only 69 runs came in 28.2 overs, in contrast to the previous four sessions, which saw more than 100 runs being scored in all of them.
The Indian spinners bowled a lot better than their Sri Lankan counterparts; Harbhajan and Ojha conceded just 18 runs in 11 overs between them, including five maidens.
On the other hand, the Sri Lankan spinners bowled a total of 111 overs between them but managed just five maidens while giving away 462 runs.
India will be hoping to strike early on the third morning and put the Lankan middle order under pressure on a pitch that should favour the spinners a lot more on the last three days.