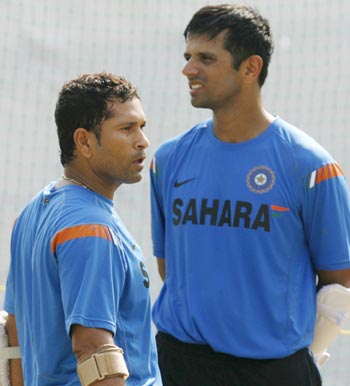 Sachin Tendulkar and Rahul Dravid will receive special mementos, while Gautam Gambhir will be rewarded for an exceptional year in international cricket at the annual BCCI Awards Ceremony in Mumbai on December 6.
While Tendulkar will be honoured for completing 20 years in international cricket, Dravid will be felicitated for creating a world record in the number of catches held in Tests, at the Cricket Club of India in Mumbai, Board of Control for Cricket in India secretary N Srinivasan announced.
Opener Gambhir, who is continuing his terrific form from last year in the current Test rubber against Sri Lanka, will receive the Polly Umrigar Award and Rs 500,000 for being India's best international cricketer of the year.
The Delhi left-hander scored 1269 runs (including five hundreds) from eight Tests at an average of 84.6 per innings.
Gambhir's most memorable efforts were 206 against Australia at Delhi and 137 against New Zealand at Napier. He also scored 670 runs from 21 ODIs, and 177 runs from eight Twenty20 Internationals during this phase.
The prestigious C K Nayudu Lifetime Achievement Award will be conferred on Mohinder Amarnath, a key member of the 1983 World Cup-winning team.
The Board will also recognise the achievements of left arm spinner Rajinder Goel and Amarjeet Kaypee and the Mumbai squad in the first 75 years of the Ranji Trophy.
Mohinder Amarnath will emulate the feat of his father, former India skipper Lala Amarnath, who was the first recipient of the C K Nayudu Award in 1994. He will receive a trophy and Rs 150,000.
The best performers in Indian cricket during the period from October 1, 2008 to September 30, 2009, will also be honoured.
Goel and Kaypee, the highest wicket-taker and scorer respectively in the first 75 seasons of the Ranji Trophy (1934-35 to 2008-09) that is celebrating its Platinum Jubilee will be felicitated with mementos, Srinivasan said.
Mumbai, winners of the National championship for a whopping 38 times, will be honoured with a memento for being the most successful team in the competition.
Among the other award winners are: Mumbai captain Wasim Jaffer, for emerging as the highest scorer in Ranji Trophy in the 2008-09 season, his teammate Dhawal Kulkarni and Saurashtra's Ravindra Jadeja, who were jointly the top wicket takers in the championship. The trio will get a trophy and Rs 100,000 each.