Lavishing praise on temperamental pacer S Sreesanth for scripting India's record win over Sri Lanka in the second Test here, captain Mahendra Singh Dhoni on Friday said the comeback-bowler is as good as veteran Zaheer Khan when it comes to extracting reverse swing.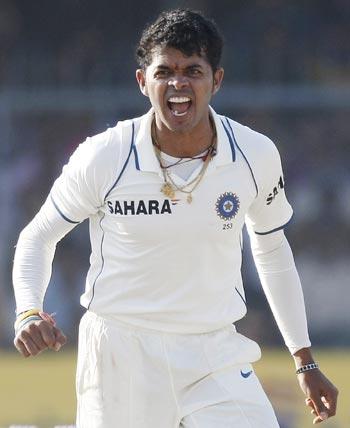 "It is important to bring fresh legs. Sreesanth is little different from Ishant when it comes to controlling the swing and I feel he is one of the best bowlers of reverse swing along with Zaheer Khan. Good to see him in action," an ecstatic Dhoni said after India beat the visitors by an innings and 144 runs to take a 1-0 lead in the three-match series.
Sreesanth took six wickets, five of them in the first innings, to wreck Sri Lanka's batting and earn the Man of the Match trophy.
Dhoni was effusive in his praise for Sreesanth who seemed to have mastered his emotions that landed him in soup so many times in the past.
"He definitely has cut down (on his antics). Hopefully he would maintain that. As long as he does not cross the line, it's good not just for him personally but also for the team. He was aggressive but in a different way.
"He controlled his emotion and that is very important. Hopefully he will continue like this in future," Dhoni said of the pacer, whose past is littered with on-field brawls and frequent disciplinary hearings.
"Sree bowled really well. I don't think anybody expected a seamer to run away with a five-wicket haul but he did. Of course luck was on our side. We got a run out and some inside edges found the stumps. But he still came steaming in and bowled in good areas," Dhoni said.
The win was also India's 100th in 432 Tests and their biggest over Sri Lanka.
"It is a moment of pride to be a part of the side that won the 100th Test. I think it wouldn't have been possible if the past cricketers had not done their job properly," he quipped.
Dhoni said the the massive 642-run total that the Indians managed in the first innings was crucial in ensuring India's domination.
"It was a good toss to win. The wicket was good to bat on and first day it started turn and I feel the amount of runs we scored in the first innings was important," he said.