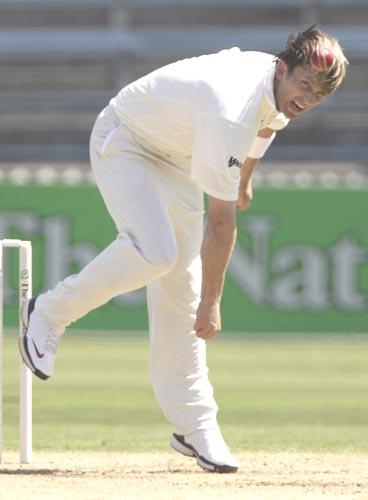 Riding on comeback star Shane Bond's brilliant match figures of eight for 153, New Zealand defeated Pakistan by 32 runs in the first Test in Dunedin on Saturday.
Bond, who was declared man-of-the-match, almost matched his first innings performance by claiming three wickets in the second innings. Bond was ably supported by Iain O'Brien (3/63) and Chris Martin (2/45).
For Pakistan, it was debutant Umar Akmal who once again showed promise with the bat by top scoring with 75 runs.
Though his team lost the match, Umar made his way into the record books by becoming only the ninth test player to compile a century and half-century on debut.
Needing just 251 runs to win, none of the Pakistani batsmen stayed at the crease for long. Skipper Mohammad Yousuf offered some resistance, but he too fell after making 41.
Former captain Shoaib Malik (32) and wicket-keeper Kamran Akmal (27) tried their best to prevent the Kiwis from taking the lead in the three match series, but the harm was already done as none of the top three batsmen could even cross double figure.
The last three batsmen tried their best to avoid the inevitable for nine overs, but the difficult task was made harder by some intelligent bowling changes by Daniel Vettori, who shuffled his resources remarkably well making the Pakistani batsmen's task harder.
Earlier, resuming the day on 147 for eight, the Black Caps managed to add just eight runs before being bowled out for 153.
Ross Taylor top scored making 59 runs, while Tim McIntosh was the second top scorer making 31. The second test starts in Wellington on Thursday.
New Zealand 1st innings 429
Pakistan 1st Innings 332
New Zealand 2nd innings (overnight 147-8)
M Guptill b Aamer 0
T McIntosh lbw b Asif 31
D Flynn lbw b Aamer 0
R Taylor run out 59
P Fulton lbw b Gul 0
G Elliott c K Akmal b Gul 25
B McCullum c K Akmal b Asif 0
D Vettori c Alam b Asif 8
S Bond b Asif 7
I O''Brien lbw b Gul 4
C Martin not out 1
Total (all out; 67 overs) 153
Extras: (b-4, lb-5, w-1, nb-3, pen-5) 18
Bowling: M Aamer 16-7-29-2, M Asif 20-6-43-4 , U Gul 14-3-41-3 , S Ajmal 17-5-26-0.
Pakistan 2nd innings
K Manzoor c McCullum b Bond 4
I Farhat c McIntosh b Martin 1
F Alam c Fulton b Bond 5
M Yousuf c McCullum b Martin 41
U Akmal c and b Bond 75
S Malik c McCullum b O''Brien 32
K Akmal lbw b O''Brien 27
M Aamer c and b Vettori 15
U Gul c Vettori b O''Brien 4
M Asif c Taylor b Vettori 0
S Ajmal not out 1
Total (all out; 76 overs) 218
Extras: (b-9, lb-1, w-2, nb-1) 13
Bowling: S Bond 21-5-46-3, C Martin 16-4-45-2, I O'Brien 23-3-63-3 , D Vettori 14-1-51-2, G Elliott 2-0-3-0.