Cricketer-turned-commentator Geoffrey Boycott kicked up a storm with an on-air four-letter rant during the third England-South Africa ODI, prompting the British Broadcasting Corporation (BBC) to apologise for the indiscretion.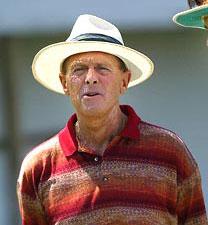 Known for his outspoken nature, Boycott was heard shouting "f****** t****r" during BBC Test Match Special coverage of England's third ODI against South Africa.
It is not known who the comment was aimed at and Boycott was unaware that his comments were on air, The Daily Telegraph quoted a BBC source as saying.
"An off-air comment made by Geoffrey Boycott in a live broadcast was heard by some listeners which we apologised for as soon as we realised it had been audible," a Radio 5 Live spokesman said.
In 2006, Australian cricketer-turned-commentator Dean Jones lost his job after the former player referred to South African batsman Hashim Amla as a 'terrorist' during a Test match in Colombo.