Australian fast bowler Ben Hilfenhaus says he's enjoying the conditions in his maiden Ashes series, and believes he has gone a long way in proving his effectiveness on different surfaces.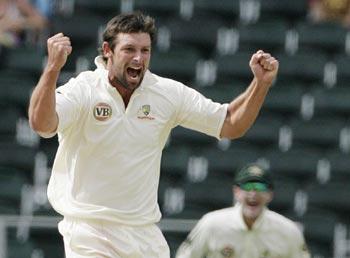 Claiming 22 wickets during the Ashes series in England, Hilfenhaus has fulfilled the hopes of the captain and the selectors, who identified him as an Ashes tourist two years in advance of the contest because of his god-given swing and labourer's work ethic.
The 26-year-old emerged as a modern-day Terry Alderman, whose famous out swingers delivered 83 wickets at fewer than 20 in a dozen Tests on English soil in the ''80s.
Alderman's record in England was superior to his results in other parts of the world, where he had to work harder for his 87 wickets at an average of 34.61 in 29 matches.
But according to the Brisbane Times, Hilfenhaus has made an honest start in his quest to prove he can be just as dangerous at home as away.
At the Gabba against the West Indies, he grabbed 3-20 in his first spell in the second innings at the Gabba, which admittedly is the Australian venue that most resembles English conditions.
He removed Gayle for the second time in the match with some regulation swing.
Hilfenhaus was instrumental, too, in wrapping up the West Indies' first innings, in which he claimed 2-50.