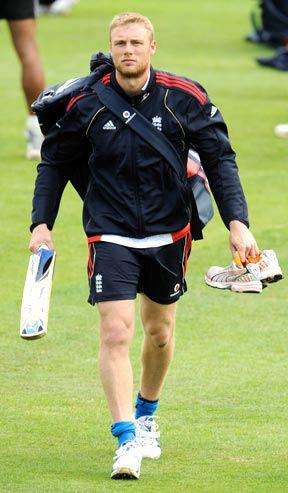 They went to meet British troops in Afghanistan, but star England all-rounder Andrew Flintoff and footballer Gary Linekar ended up getting a feel of the war as they scurried for cover during a Taliban attack in Kandahar, a tabloid reported.
According to the report in Daily Mirror, Flintoff and Linekar were enjoying a dinner with the troops at an air base when they were caught unawares by rocket firing.
"The sports heroes – in the war zone to hand out a Mirror Pride of Britain award – were in a forces dining room when an alarm warned of incoming rocket fire.
They joined servicemen and women in scrambling for cover under tables," the report said.
"I thought it was a wind-up but then I saw everyone dive to the floor. It was scary," Flintoff recalled.
"I've have seen things over the past few days that will live with me for ever," he added.
Linekar said he was in for a second security scare when his military jet lost an engine before landing safely.
Recalling the rocket attack on the Kandahar air base, Linekar said, "Hearing that alarm really brought home what's going on. You take your hat off to these guys here."
The 31-year-old Flintoff, on crutches after undergoing a knee surgery recently, said the experience would remain with him forever.
"You see news reports, but when you see it first hand you realise what a great job they're doing," he said.