Cricketer-turned-politician Imran Khan on Wednesday dismissed match-fixing allegations against the Pakistani team in the Champions Trophy but felt the players were over-confident.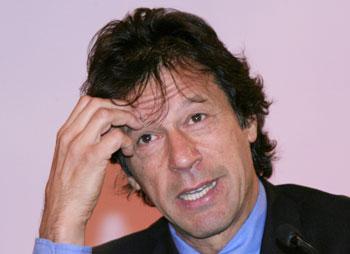 "No, I don't think any match-fixing or hanky-panky took place. We were just too over-confident and complacent and we paid the price for it," Imran told Geo Super channel.
The Chairman of the National Assembly Standing Committee on Sports Jamshed Khan Dasti had earlier stirred a hornet's nest, claiming Pakistan had deliberately lost the matches to Australia and New Zealand and the committee would investigate reports of fixed matches.
Imran said there were pure cricketing reasons for Pakistan's failure to win the Champions Trophy and complacency was one.
"You cannot afford to be complacent against any side. We should not have lost to a weak team like New Zealand which had so many injury problems and they have only one world class performer in Daniel Vettori," he said.
Imran said that if Pakistan had lost to any team other then New Zealand in the semifinal there would be no criticism or fixing allegations. 
"People cannot accept we lost to a team like New Zealand in such a big match," he said. 
Imran was also critical of captain Younus Khan's performance in the tournament.
"He didn't lead from the front and if he was not fit, he should not have played. He is focusing only on is captaincy and not on his own batting. He has gone from a hero to zero in this tournament. He was disappointing and he needs to reassess his priorities," Imran said.
Imran also felt that the team management should have gambled with Mohammad Asif in place of the out-of-form Umar Gul in the tournament, especially in the semi-final. 
Asked to comment on allegations that India might have had a role to play in the poor umpiring in the semifinal, Imran said he couldn't say anything for certain but alleged that India in the past had tried to undermine Pakistan cricket.