Chris Gayle is happy to take on the West Indies captain's role again following an end to the bitter dispute between the players and the West Indies Cricket Board, the opening batsman has said.
"If I am asked to do the job I will be committed. It is always honour to captain the West Indies," Gayle told Reuters in an interview. "I am always committed to do it.
"Support-wise the players have been really good and it shouldn't be a problem. Once I am asked to do it then, definitely."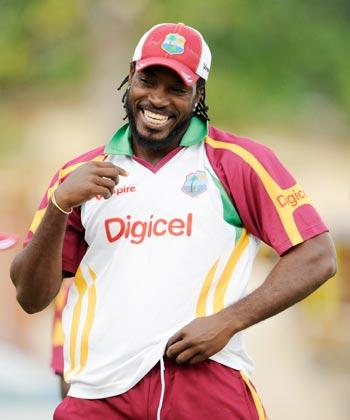 The 30-year-old hard-hitting left-hander captained West Indies to a 1-0 series win over England in the Caribbean earlier this year and looked well settled in the role until the players boycotted the home series against Bangladesh in July.
In the midst of the conflict over contractual and payment issues, 37-year-old Barbadian Floyd Reifer took charge of a mostly makeshift team and failed to win a single match against Bangladesh or at the Champions Trophy in South Africa.
It would be a major surprise if Reifer, whose batting performances were well-below Test standard, would be asked to lead the team to Australia next month.
Gayle's return to the role he first took on in 2007, however, has been questioned by new WICB chief executive Ernest Hilaire.
Hilaire suggested last month the selectors would be wise to ask Gayle to clarify his future given his comments during their tour of England in May when he said he did not see a long future for himself in Test cricket and preferred the Twenty20 format.
He also said he was looking forward to a break from the pressures of captaincy.
But, having had time off during the dispute, Gayle is clearly refreshed, willing to take on the responsibility again and no longer interested in discussions about his preferences for different formats of the game.
"I am committed to whatever cricket I play. Once I step across the line I am 100 percent committed -- it doesn't matter what kind of cricket we play," Gayle said.
Significantly Gayle's comments come after he received the backing of all-rounder Dwayne Bravo, an influential dressing room figure.
"I am happy with Chris as West Indies captain. He has done a fantastic job and all the guys have a lot of respect for him," Bravo said recently.
Gayle said the recent strike and series defeat to Bangladesh was a "heartbreaking situation" but he is hopeful that last week's agreement between the players' union and the board will allow for a fresh start.
"I'm happy agreements have been reached but at the same time, hopefully things will be better for our infrastructure so that we can work as one unit and leave the controversy behind, put it to one side and go out and enjoy the game.
"I think it will happen. Let's keep our fingers crossed, everyone is looking to work together."