The Australian team, which has gone through a transitional phase following the retirement of several senior players, has started to settle down now and become competitive again, feels coach Tim Nielsen.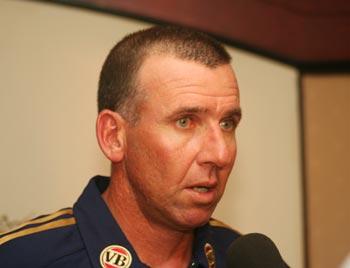 "We have gone through a period where we have won a few games, lost a few games. The older players and younger players are gelling well as a team, learning a lot about each other as a team and are playing well," said Nielsen.
The Australians, in India for a high-octane seven-match ODI series starting at Vadodara on October 25, are on a high after defending the ICC Champions Trophy event without the presence of three injured players -- vice-captain Michael Clarke, wicketkeeper Brad Haddin and left arm pacer Nathan Bracken.
Nielsen said the turnaround for the team, which was beaten at home by South Africa in the last southern summer, came in the subsequent visit to the Rainbow Nation.
"It (defeat against South Africa) certainly had a big impact for us. We had senior players who had moved on. Matthew Hayden had ended his career at that time. We had some younger players who were involved with the team for the first time. They did not like the fact we were losing," he said.
"They found international cricket very demanding. The Test and ODI series we lost in Australia had a big impact.
"By winning the Test series in South Africa, we were able to come back. Because we had lost we realised we needed to change and improve, need to do things differently," Nielsen said.
Photograph: Sanjay Sawant