- Scorecard: India vs Australia, 1st ODI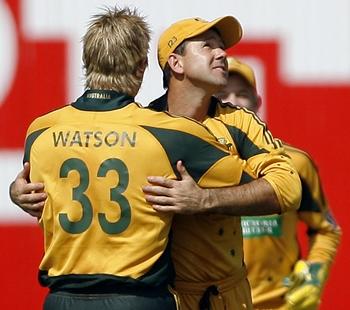 A brave batting performance from India's lower order couldn't prevent Australia from snatching a four-run victory in the first One-Day International at the IPCL stadium in Vadodara, on Sunday.
India's run chase look done and dusted after they were reduced to 201 for 7 in the 40th over, but Harbhajan Singh smashed 49 from 31 deliveries, and Praveen Kumar 40 from 32 deliveries, in a partnership of 84 runs off 57 deliveries, to put the fight back on track and have the Aussies shell-shocked.
However, with nine needed from the last over, Peter Siddle ended whatever hopes the Indians may have entertained with the wicket of Harbhajan. The 'offie' was out to the second ball and new-man Ashish Nehra and Kumar could only score three more runs as the World champions clinched victory.
Gautam Gambhir was India's top-scorer with a fluent 68 from 85 deliveries, while Mahendra Singh Dhoni made 34 from 46.
Earlier, Ricky Ponting, electing to bat, top-scored with a solid 74 as Australia posted an imposing 292 for 8 in their 50 overs.
Michael Hussey stole the limelight in the final overs with a blazing innings of 73 from 54 deliveries, as the tourists hammered 54 runs in the last five.
Paine and Ponting had rallied Australia after the early dismissal of Shane Watson with quick half-centuries by adding 97 runs in 107 deliveries for the third wicket.
Paine, playing in his first match in India, hit 50, inclusive of nine boundaries in his 62-ball knock, while Ponting smashed eight boundaries and two sixes in 85 deliveries.
Cameron White was the fourth batsman to score a half-century in Australia's innings, with a composed 50 from 67 deliveries.
AUSTRALIA
India started off well, getting the early wicket of the in-form Shane Watson, but thereafter Paine and Ponting made them pay with some sizzling strokeplay.
Watson, fresh from back-to-back centuries in the ICC Champions Trophy, started off in style with a straight boundary off pacer Praveen Kumar.
However, he was out in the next over, leg before wicket to Ashish Nehra. He scored five before he was beaten by an incoming delivery from Nehra in the second over of the innings. (5-1, 1.2)
Paine looked to target Praveen Kumar in the third over as he walked down the wicket and carted him over midwicket for a boundary. A few deliveries later he again walked down and tried to play one through the off-side but got an edge which bounced short of the slips and went for a boundary.
Paine was looking good on 13 from 16, inclusive of three boundaries, as Australia reached 22 for one after five overs.
The Aussie wicketkeeper (14) was lucky to survive when Sachin Tendulkar in the lone slip failed to get down in time to an edge off Kumar in the sixth over.
After a steady start, Ponting announced himself with consecutive boundaries off Kumar in the ninth over. The first one was lofted over midwicket while the second was a cracking drive through the cover region.
In the next over, he danced down the wicket and despatched a short delivery from Nehra over the fine leg boundary for the first six of the innings.
Paine was unbeaten on 21 from 26 deliveries and Ponting not out on 25 from 29 deliveries as Australia reached a comfortable 56 for one after ten overs.
The two batsmen then opened the floodgates against the two new bowlers, Ishant Sharma and Harbhajan Singh. Ishant Sharma had a poor start to his spell. He bowled a full delivery on the pads first up which Paine promptly hit for a boundary through square leg in the 11th over. Ponting soon overtook Paine when he cut a short delivery from Harbhajan Singh through point for his fifth boundary to move to 30 in the 12th over.
Meanwhile, it was announced that English umpire Mark Benson could not take the field after reporting ill on Saturday night and was replaced by third umpire Amesh Saheba as the second on-field umpire to partner S K Tarapore.
It seemed Australia were keen on not letting Harbhajan settle, as Paine reverse swept the off-spinner for a boundary through the third man region in the 14th over.
The boundaries kept flowing for Australia as Ponting lofted Ishant straight down the ground to take the total to 83 for one after 15 overs. Australia's captain was looking in ominous touch on 35 from 41 deliveries while Paine seemed set for a big knock on 36 from 44 deliveries.
Harbhajan was replaced after a disappointing first spell of 20 runs from three overs and was replaced by part-timer Ravindra Jadeja. Even Jadeja got his length wrong at the start and was cut for a boundary through the point region by Paine in the 16th over.
The pitch eased out and was now a batting beauty, and the Indian bowlers further compounded the team's woes by erring in their line and length.
Paine completed his half-century with a single on the leg side off just 61 deliveries, having hit nine boundaries, in the 19th over. But he fell two deliveries later when he knicked a short delivery outside the off-stump from Ishant to wicketkeeper Dhoni after scoring 50 from 62 deliveries.
The Aussie wicketkeeper had given his team the perfect foundation, adding 97 runs in 107 deliveries for the third wicket with Ponting. (102-2, 19)
Ponting was unbeaten on 43 from 50 deliveries as Australia reached 106 for two after 20 overs. He completed his half-century when he cut Jadeja fine through third man for a boundary. His 71st fifty, inclusive of seven boundaries and a six, in one-dayers took him just 56 deliveries.
Paine's wicket had pegged the Australians back bit, with just 19 runs coming from the next four overs. Ponting broke the shackles when he lofted part-timer Jadeja over the covers for a six that just went over Nehra fielding on the boundary ropes as he jumped high to catch it.
Ishant was instrumental in helping India put the brakes on the Aussie scoring rate during his first spell, where he took one for 27 in seven overs. 
Just when it looked Australia were once again beginning to take the initiative through Ponting and Cameron White, India came back with an important wicket. Jadeja trapped Ponting leg before wicket with one that turned a bit to have the Aussie captain plumb in front of the wickets.
Ponting played a fine innings of 74 from 85 deliveries, inclusive of eight boundaries and two sixes. He added 49 runs in 63 deliveries for the third wicket with White, but his wicket gave India a good chance of pulling things back. (151-3, 29.3)
It was Jadeja's first wicket in one-dayers, in his fourth match.
White dropped anchor and concentrated mainly on the singles, fully aware that he could unleash his shots once the batting Poweplay was taken.
One of Dhoni's headaches was Harbhajan's poor bowling. The bowler was unable to strike up a rhythm and repeatedly dropped short and wide. In fact, Jadeja (one for 39 in nine overs) fared better than the experienced off-spinner, who was hit for 47 runs in eight overs.
White bagged his first boundary off the 43rd delivery he faced when he crashed a short one from Kumar through mid-wicket in the 35th over.
Australia looked to lift the momentum after the second drinks break. Part-timer Suresh Raina was introduced in the 37th over and White immediately carted him over midwicket for a six. White then slammed Nehra through mid-wicket for another boundary and Michael Hussey creamed the left-armer through covers for the second boundary of the over.
White looked comfortable on 43 from 61 deliveries and Hussey had raced to 33 from 28 deliveries as Australia amassed 213 for three after 40 overs.
White completed his half-century off 65 deliveries, inclusive of three boundaries and a six, in the 42nd over. After a quiet start, White had suddenly blossomed to help Australia seize the momentum in the final part of the innings.
Not surprisingly, Australia took their Batting Powerplay after the end of the 42nd over with both Hussey and White looking in complete control.
But Nehra spoiled their plans by claiming the important wicket of White for 51. The right-hander tried to loft Nehra down the ground but got a leading edge and was taken by Suresh Raina at mid-off, running to his right. (227-4, 42.2)
White and Hussey ensured Australia maintained a good scoring rate in the middle overs as they added 76 runs in 77 deliveries for the fourth wicket.
Australia, it seemed were losing the plot in the Powerplay overs. New batsman Adam Voges made India's job a bit easier as he swept Harbhajan straight to Gautam Gambhir for 3. (233-5, 43.5)
Those two wickets helped India keep the run-rate down, as just 25 came from five overs, as Australia reached 238 for five after 45.
James Hopes wasted no time in getting into the act as he hit Kumar over wide mid-off for a six and followed it up with a cut shot through point for a boundary in the 46th over.
Hussey then pulled a short delivery from Nehra for a boundary and followed it up with a double off the next delivery to complete his half-century.
But India kept chipping away at the wickets. Hopes made a quick 14 from nine deliveries before he was run-out after a misunderstanding with Hussey. (256-6, 46.3)
The Batting Powerplay went horribly wrong for Australia as they lost three wickets for 33 runs in those five overs.
Despite the fall of wickets at the other end, Hussey kept a positive approach. The veteran left-hander slammed Ishant for three boundaries in his ninth over to take Australia to 273 for six after 48 overs.
In the next over, he danced down the wicket and hit Kumar for a huge six over mid-on --  the ball landed outside the stadium.
Mitchell Johnson also helped himself to a couple of boundaries in that over as Australia closed in on the 300-run mark.
Hussey's brilliant innings came to an end when he pulled Ishant straight to Virat Kohli at midwicket (291-7, 49.1). The left-hander had delighted the crowd with some brilliant strokeplay, scoring 73 off just 54 deliveries, with eight boundaries and a six.
Ishant bowled the perfect final over for India as he conceded just one run before bowling Brett Lee with a yorker off the last ball.
Lee was bowled for a three-ball duck, while Johnson finished unbeaten on 14 from eight deliveries as Australia ended on 292 for eight in their 50 overs.
Ishant had the best bowling figures, with three for 50 in his ten overs, and Nehra took two for 58. Praveen Kumar struggled to find his rhythm and was carted for 77 runs in his ten overs with Harbhajan also disappointed, claiming one for 57 in ten overs.
INDIA
Virender Sehwag threatened briefly with a quick 13 before he was scalped by Brett Lee, while Sachin Tendulkar was caught in the covers off Shane Watson for 14.
Sehwag, back for in India colours after a gap of nearly six months, showed no signs of rustiness and started off in his usual attacking fashion. He opened with consecutive boundaries square on both sides of the wicket against Lee off the first two deliveries of the innings.
Peter Siddle was as erratic as Lee, starting with a wide down the leg side that went to the boundary. Sehwag seemed hungry to make up for lost time during his injury lay-off as he cut the next delivery over the point fielder for his third boundary.
Sachin Tendulkar took time to get his eye in before flicking Siddle past square leg for his first boundary in the fourth over.
Lee though had the last laugh as far as his battle with Sehwag was concerned. The speedster continued his good form from the Champions League Twenty20, having Sehwag caught behind for 13 from 11 deliveries, inclusive of three boundaries. (25-1, 4.2) 
Gautam Gambhir got going with a boundary to take India to 29 for one after five overs.
Australia tried to keep Tendulkar in check by bowling outside the off-stump to a packed field that side. It was not long before Tendulkar breached the small gap between the cover and mid-off fielders for his second boundary off a full delivery from Siddle. Two deliveries later, Gambhir followed that with a straight boundary between the bowler and mid-on fielder.
Watson had failed with the bat but he made a vital contribution with the ball when he claimed the big wicket of Tendulkar for 14. The veteran drove at a wide delivery outside the off-stump but was brilliantly caught by Ponting at short cover, leaving the entire stadium in a state of shock. (45-2, 8.1)
The Delhi duo of Gambhir and Virat Kohli set about the task of repairing the damage following the two early dismissals.
A few overs passed off without any boundaries before the two broke the shackles with a boundary each down the ground in consecutive overs to take India to 65 for two in 13 overs,
Despite not many boundaries being hit, Gambhir and Kohli kept the scoreboard ticking at a fair rate with quick running the between the wickets.
After 15 overs, India were 74 for two, needing another 219 from the remaining 35 overs with eight wickets still in hand.
The batsmen did not let the Aussie bowlers take control, as Gambhir demonstrated when he flicked Watson over wide long-on for the first six of the innings.
After 20 overs, India were 101 for two, with Gambhir unbeaten on 32 from 41 deliveries and Kohli not out on 29 from 39 deliveries.
Kohli tried to unsettle part-time spinner Adam Voges but paid the price as he tried a rash shot. The youngster charged down the wicket but failed get to the pitch and ended up holing a catch to Watson at mid-off. He fell for 30 from 41 deliveries. (103-3, 20.4)
Kohli added 58 runs in 75 deliveries for the third wicket with Gambhir but his impatience saw Australia take the upper hand.
Off-spinner Nathan Hauritz started off well, conceding just five runs in his first three overs, as India reached 124 for three at the halfway stage, needing another 169 runs in 25 overs.
Gambhir completed his half-century in the 26th over off 64 deliveries with a double on the leg side off Hauritz in the 28th over.
Gambhir was 52 not out from 71 deliveries and Mahendra Singh Dhoni unbeaten on 15 from 27 deliveries as India scored 141 for three after 30 overs.
Almost five overs passed off without a boundary as India's required run rate started climbing. The batsmen managed to break the shackles somewhat as both Dhoni and Gambhir bagged a boundary each in Johnson's sixth over.
India took the Batting Powerplay early, at the start of the 35th over, but the gamble backfired. Johnson dealt India's chances a huge blow when he trapped Gambhir leg before wicket. The left-hander missed a low full toss as he tried to play across the line and was dismissed after a fine innings of 68 from 85 deliveries, inclusive of six boundaries and a six. (167-4, 34.1)
The Gambhir-Dhoni partnership yielded 64 runs off 81 deliveries for the fourth wicket and kept India in the hunt. After 35 overs, India were 173 for three, with Dhoni unbeaten on 31 from 41 deliveries, needing another 120 runs from 90 deliveries.
Suresh Raina started off positively, launching Watson over midwicket for a huge six in the 37th over. However, the young left-hander fell in the next. Deceived by a slower delivery, he offered the bowler, Johnson, an easy return catch and was out for 9. (183-5, 36.3)
Trying to make most of the Powerplay, Dhoni then charged down the wicket but ended up lofting Watson straight to Lee at mid-on after scoring 34 from 46 deliveries. (186-6, 37,2)
That wicket surely put Australia in the driver's seat, with all the recognized batsmen back in the hut and 107 more runs needed from 76 deliveries, with four wickets in hand.
Ravindra Jadeja (5) found it tough in the middle before he was dismissed leg before wicket attempting a sweep shot against Hauritz. (201-7, 39.5)
Just when it looked as it was all over for the home side, Harbhajan and Pravenn Kumar threw all caution to the wind, connecting bad deliveries from Watson and Siddle. Suddenly it rained fours and sixes and equation changed dramatically. 
Kumar kept the crowd entertained with a six as he read the slower delivery from Watson and lofted it over mid-off in the 43rd over. In the next over, he was lucky to get a reprieve when substitute Shaun Marsh on the midwicket dropped an easy catch off Hauritz and also conceded a boundary.
Harbhajan also took a cue from Kumar and charged down the wicket and lofted Hauritz for a huge six over wide long-on as the crowd came to life again. Kumar bagged another boundary in that same over as India reached 243 for seven after 46 overs, needing another 50 runs from the last four overs.
The two tailenders were proving to be more than an irritation for the Aussie bowlers as they added 50 runs in 43 deliveries for the eighth wicket. Australia were well-placed but India still harboured hope, needing 42 from the last three overs, fully aware that a few big hits could yet swing the match their way.
Harbhajan was proving to be the hero with the bat as he carted Siddle's full toss over fine leg for a six. He then did a Tendulkar as he flicked a full delivery on the pads through square leg for a boundary to reduce the equation to 30 needed from 15 deliveries.
The 49th over by Watson proved to be a turning point as 15 runs came off it. Kumar slammed consecutive boundaries through the off-side and Harbhajan followed it up with a boundary and six. Watson seemed to have lost his control as he bowled a few toss deliveries in an attempt to bowl tight yorkers at the stumps.
The two batsmen had launched brilliant counter-attack as they stroked 62 runs in the last five overs. The match was suddenly thrown wide open as India needed just nine from the last over.
But India's charge was halted by Siddle, who sent Harbhajan's stumps crashing with a fast full delivery. The off-spinner had given India real hope of winning the match as he smashed 49 from just 31 deliveries, having hit four boundaries and three sixes. (285-8, 49.2)
Harbhajan added 84 runs in just 57 deliveries for the eighth wicket with Kumar, but his dismissal sealed India's fate.
Siddle kept his composure in the final over to help Australia clinch a narrow four-run victory.
Kumar kept fighting till the end, finishing unbeaten on 40 from 32 deliveries, but could not deliver the final knockout punch. 
For Australia, Hauritz was the best bowler with one for 34 in nine overs, while Lee surprisingly bowled just six overs, claiming one for 28.