- Scorecard: India vs Australia, 2nd ODI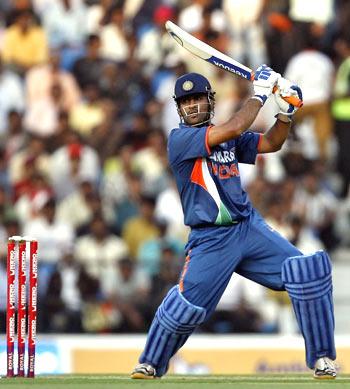 Captain Mahendra Singh Dhoni scored a scintillating century as India crushed Australia by 99 runs in the second one-day international to level the seven-match series, at the Vidharbha Cricket Association stadium, in Nagpur, on Wednesday.
Dhoni hammered 124 off just 107 deliveries, hitting nine boundaries and three sixes in the process, to help India post a mammoth 354 for 7, their highest total against Australia in ODIs.
In reply, Australia never really threatened. They lost wickets at regular intervals and were dismissed for 255 in 48.3 overs.
The swanky, new Vidharba Cricket Association, hosting its first ODI, once again proved a happy hunting ground for the hosts, as they followed up on their Test victory against the same opponents at the venue last year.
Dhoni's power-packed innings of 124 is also the highest score by a captain against the World champions, bettering Sanath Jayasuriya's 122 at Sydney in 2003.
Sent in to bat, India were dealt an early blow as Sachin Tendulkar was dismissed for four. But Virender Sehwag provided early fireworks with a quick 40 from 31 deliveries to prop the innings.
Gautam Gambhir joined Sehwag and went on to post his second successive half-century, scoring 76 from 80 deliveries. He was involved in a 119-run partnership off 113 deliveries for the fourth wicket with Dhoni that laid the foundation for the huge total.
Suresh Raina gave the innings a solid boost in the final overs, smashing 62 from 50 deliveries. He was involved in a 136-run partnership in 96 deliveries for the fifth wicket with Dhoni.
Australia's bowlers were guilty of giving away too many extras; they conceded 13 wides and 2 no-balls. Mitchell Johnson and Ben Hilfenhaus were thrashed all around the park and ended up with sorry figures of three for 75 and one for 81 respectively in their ten overs.
Chasing a mammoth 355 for victory, only Michael Hussey got past the half-century mark for Australia, scoring 53 from 60 deliveries.
Ravindra Jadeja was India's most successful bowler with three wickets for 35 runs. Praveen Kumar, who rocked Australia with two early wickets, finished with two for 37 in eight overs and Ishant Sharma two for 34.
INDIA
Sehwag made his intentions clear -- after Ricky Ponting won the toss and inserted India -- as he welcomed medium pacer Ben Hilfenhaus with two boundaries in the first over. The second ball of the innings was lofted through the cover region, and four deliveries later he smashed a short delivery through point.
Tendulkar also started off with a boundary, flicking Peter Siddle through midwicket in the second over.
Brett Lee's absence was already being felt, as Sehwag drove Hilfenhaus straight for his third boundary and India raced to 20 after three overs.
Siddle dealt India an early blow when he claimed the big wicket of Tendulkar for 4. The veteran played a loose shot outside the off-stump and got an edge that went straight to Cameron White at first slip. (21-1, 3.3)
New batsman in Gambhir was tested with a couple of bouncers from Siddle and even struck once on the shoulder.
At the other end, Sehwag was dominating his battle against Hilfenhaus as he slammed another couple of boundaries in his third over to take India to 32 for 1 after five.
Left-hander Gambhir bagged his first boundary, driving straight past the bowler, Siddle, in the sixth over.
Hilfenhaus, after a listless first spell of 26 runs in three overs, which included five boundaries by Sehwag, gave way to left-armer Mitchell Johnson.
In the eighth over, Sehwag slammed Johnson over long-on for the first six of the match to race to 35 from 28 deliveries. In the next, he slashed a wide delivery and the thick outside edge flew past the first slip fielder for yet another four. Three deliveries later, Gambhir flicked a full delivery through square leg for the second boundary of the over as India recovered from that early wicket to reach 67 for one after ten overs.
Just when it looked like Sehwag would run away with the game, Australia struck against the run of play with the wicket of the Delhi opener, who had smashed 40 from 31 deliveries, inclusive of six boundaries and a six. He went for a big drive through the covers off Johnson and holed out to Hilfenhaus. (67-2, 10.1)
Sehwag had helped India seize the momentum after Tendulkar's early dismissal with a quick 46-run partnership in 40 deliveries for the second wicket with Gambhir.
Yuvraj Singh, back in the side after missing the Champions Trophy and first ODI, looked in good touch right from the start as he hit a couple of early boundaries through the leg side.
Tim Paine, who hurt his fingers early in the match, gave Gambhir (20) a lifeline when he failed to hold on to a difficult chance. The left-hander tried to guide one from Hilfenhaus towards third man but got an edge, which Paine could not hold despite diving to his left.
Off-spinner Nathan Hauritz was introduced in the 15th over and immediately Yuvraj went after him. The left-hander danced down the wicket and lofted him high over long-off for a huge six to take India to 97 for two after 15 overs.
Hilfenhaus suffered quite a lot in his first spell as he was smashed around the park by Sehwag. But he bounced back in style with the key wicket of Yuvraj. The left-hander was looking in good touch on 23 from 24 deliveries but Hilfenhaus deceived him with a slower delivery and brilliantly caught him on his follow through. (97-3, 15.1)
That wicket seemed to inspire the pacer. He welcomed Dhoni to the crease with a fast bouncer that hit the batsman on the helmet. India's captain survived a few nervy moments at the start of his innings before settling down to play an anchor role as India reached 125 for three after 20 overs.
Both Gambhir and Dhoni were content playing out the singles, as nearly six overs passed off with any boundaries. Dhoni broke the shackles somewhat by driving Hauritz straight down the ground for his second boundary while Gambhir followed suit in the next over, crashing Adam Voges through the covers.
Having spent some time at the wicket, the Indian batsmen decided to take the attack to the spinners. Gambhir danced down and effortlessly lofted Hauritz over the cover fielder for a boundary, as India reached 157 for three after 25 overs.
Both the spinners looked clueless and went for plenty in their first spell, which saw Hauritz concede 36 in his six overs, and Voges 24 in four.
Gambhir completed his half-century, his second of the series, off 55 deliveries with a single to third man off Johnson in the 26th over.
A look at the statistics shows India concentrated on rotating the strike in the middle overs, as Gambhir collected 24 singles in his fifty, while Dhoni had 21 in his 35.
The normally composed Dhoni lost his cool in the 27th over when bowler Johnson blocked him delibrately as he attempted to get to the non-striker's end for a quick single. A direct hit from Ponting at cover could have resulted in Dhoni being dismissed. He made his displeasure known by giving the bowler a few angry glances through the over.
Surprisingly, medium pacer Shane Watson was introduced quite late, in the 29th over of the innings, with the spinners looking out of ideas. But even he suffered in his opening over as he gave away ten runs including a boundary through the covers by Dhoni.
India's batting was now taking dangerous proportions, as 38 runs came off the last five overs without the batsmen taking any risks. It set the stage for a grandstand finish with India a healthy 195 for three after 30 overs and the Batting Powerplay still in hand.
The last hour completely belonged to India as the two batsmen brought up the 100-run partnership for the third wicket off just 90 deliveries, helping the team cross the 200-run mark in the 31st over.
Dhoni completed his half-century, his 33rd in ODIs, off 55 deliveries with a double on the leg side off Watson in the 33rd over.
Once again Gambhir was unlucky to miss out on a well-deserved century; he was run-out for 76.
Dhoni was deceived by the slower delivery from Siddle and just about managed to get it above the bowler, but a misunderstanding ensued. Gambhir went too far down the wicket looking for a single before being sent back. A direct hit from Hauritz at mid-off caught him short. (216-4, 34)
The left-hander, who hit six boundaries in his 80-ball knock, was instrumental in helping India take control in the middle overs. He was involved in a quick partnership of 119 runs in 113 deliveries for the fourth wicket with Dhoni as the run rate never slipped below the six-run mark during their partnership.
Gambhir's dismissal allowed Australia to pull back things slightly, as just 22 runs, including one boundary, came in five overs following his wicket.
Ponting was quick to bring on his spinners as he looked to get a few overs out of the way realizing that the Indian batsmen would take time to get started again.
Dhoni didn't want to delay the Batting Powerplay any longer and took it at the start of the 39th over, with the scoreboard reading 238 for four in 39 overs.
Dhoni was unbeaten on 70 from 80 deliveries, while Suresh Raina was not out on 12 from 18 deliveries as India reached 246 for four after 40 overs.
Raina decided to attack the bowlers in the Powerplay while Dhoni was content to rotate the strike from the other end.
After a few misses, Raina finally got going with a couple of boundaries off Johnson in the 42nd over. The first one was flicked over square leg and he followed it up with a lofted shot over midwicket a couple of deliveries later.
Johnson seemed helpless in keeping the flow of runs down in the Powerplay as he went for 18 runs in his ninth over. Raina provided the impetus as he slammed Johnson through wide long-on for a boundary. Dhoni took a cue from his book and pulled a short delivery from the left-am pacer through midwicket, and in the following delivery, a free hit, he crashed one back over the bowler for his second boundary of the over.
The Batting Powerplay had worked to perfection for India as they hammered 47 runs in those five overs of fielding restrictions.
Dhoni's bat, it seemed, was getting broader with every passing over and the hapless Hilfenhaus suffered. India's captain flicked him over midwicket for his first six to race to 96 from 93 deliveries and take India to a strong 294 for four after 45 overs.
Dhoni completed his century, his fifth in ODIs, in grand style when he slammed Watson straight down the ground for a huge six. It took the right-hander just 94 deliveries to reach the landmark and it included seven boundaries and two sixes.
It also took India past 300 in the 46th over.
The crowd erupted in delight at his landmark and he gave them further reason to celebrate when he cracked another big six over the mid-off fielder.
Raina also joined in the party, hitting Hilfenhaus for a boundary and six off successive deliveries to bring up the 100-run partnership for the fifth wicket in just 77 deliveries. The young left-hander completed his half-century off just 42 deliveries when he played a late cut fine towards the third man region and a misfield from Hauritz gave him a boundary.
It was repeat of the last match from Watson as he suffered in the slog overs. Watson dished out a juicy full toss that Dhoni slammed back at him, just about missing the umpire before it crashed to the boundary.
The boundaries continued to flow and Siddle got a taste of Dhoni's artistry when the India captain flicked a full delivery through square leg for a boundary, and Raina produced a similar shot for the second boundary in the over.
Australia's brief moment of cheer came in the final over when they claimed three wickets. But, by then, it was too late.
Dhoni was the first to fall in that over when he tried another flick through midwicket but got the outside edge and was taken by wicketkeeper Paine off Johnson. He walked back to a standing ovation from the crowd, after a brilliant knock of 124 from 107 deliveries. He helped the team post what looks like a match-winning total. (352-5, 49.3)
Raina's cameo innings of 62 from 50 came to an end when he was brilliantly caught by Paine two deliveries later. The left-hander tried to loft one straight down the ground but got an edge, which seemed to be flying over the wicketkeeper, who leapt with his arms outstretched and somehow ended up catching it. (353-6, 49.5)
Praveen Kumar, involved in a minor scuffle with photographers before the start of the match, was run-out to the first delivery for 1.
India ended up with a massive 354 for seven in their 50 overs, their highest score against Australia in one-dayers.
Dhoni's 124 is also highest score by any captain against Australia, going past the 122 Sanath Jayasuriya scored in Sydney in 2003.
AUSTRALIA:
Praveen Kumar and Ashish Nehra started of well, bowling a good line and length, to restrict Australia to just two boundaries in the first four overs.
On both occasions, Shane Watson hit Praveen Kumar for a boundary in each of his first two overs. But it was the Uttar Pradesh seamer who got the early breakthrough.
Paine pulled a short delivery through midwicket for his first boundary in the fifth over, but Kumar had his revenge off the very next delivery when his full delivery came in sharply to beat Paine and send his leg stump cart wheeling for 8. (20-1, 5)
The in-form Ricky Ponting again looked in good touch right from the start. He announced himself with a straight boundary off Ashish Nehra and followed it up with another one pulled through midwicket in the eighth over.
Ishant Sharma struck with his very first delivery, having Watson caught at first slip for 19. The lanky pacer got one to bounce sharply, and Watson could only guide it to Tendulkar in the lone first slip region. The dismissal left Australia reeling at 41 for two. (41-2, 9.1)
Australia's troubles worsened when captain and batting mainstay Ricky Ponting was dismissed leg before wicket for 12.
Once again, Kumar's incoming delivery did the trick, as Ponting was beaten and struck right in front of the stumps. (45-3, 10.1)
Harbhajan Singh was introduced as early as the 15th over and he got off to a disastrous start. Mike Hussey welcomed him with three consecutive boundaries through the off-side as the off-spinner dropped it short as Australia reached 68 for three after 15 overs.
Hussey (25 from 26 deliveries) and Cameron White (22 from 38 deliveries) were content to play out the overs. The match had virtually slipped out of Australia's grasp as they reached 90 for three after 20 overs, needing another 265 from the last 30 at a rate of nearly nine per over.
Harbhajan, after a horrible start, gradually found his footing. He compounded Australia's misery when he got White caught at midwicket for 23. (93-4, 21)
Yuvraj Singh's return meant that he was also an option with the ball. He and Harbhajan kept the Australian batsmen on a tight leash.
Hussey though kept the scoreboard moving at a fair rate and raced to his half-century from 54 deliveries, hitting six boundaries in the process.
At the other end, Adam Voges was rather subdued with 19 from 25 deliveries as Australia reached 140 for four after 30 overs, needing 215 from the last 20.
Left-arm spinner Ravindra Jadeja struck in his first over, claiming the wicket of Hussey. The left-hander played back to an incoming delivery but was beaten all ends up and bowled for 53 from 60 deliveries, inclusive of six boundaries. (140-5, 30.3)
Australia took the Batting Powerplay after 34 overs, with the scoreboard reading 156 for five. Shaun Marsh, batting at number seven, got a reprieve when Kumar at long-on took the catch but ended up stepping up on the boundary ropes to concede a six.
Jadeja had his man in the next over when Marsh, going for another big shot, was beaten by the quicker delivery and stumped for 21. (180-6, 37)
But, at the other end, senior spinner Harbhajan continued to struggle. New batsman Mitchell Johnson took no time to get after the off-spinner and slammed him for a boundary and six in his final over.
Harbhajan once again disappointed and failed to make an impact despite India dominating the proceedings. He finished with one for 62 in ten overs.
Despite being on top, the Indian bowlers were not able to restrict the Australian lower order in the Batting Powerplay; they gave away 41 runs in five overs. 
The match is nearly done and dusted, with Australia 200 for seven after 40 overs.
Johnson made a quick 21 from 19 deliveries before his stumps were left shattered by Nehra as he tried a big heave across the line. (223-8, 43.3) 
Peter Siddle (3) was dismissed in the next over when he tried the upper cut against Ishant but ended up edging it behind to wicketkeeper Dhoni. (230-9, 44.4)
Australia's agony ended when lastman Ben Hilfenhaus was run out for 16 as Australia were dismissed for 255 in 48.3 overs.
The seven-match series now stands at 1-1. The third match will be played at the Ferozshah Kotla in New Delhi, on Saturday, October 31.