Former president Sharad Pawar has questioned the Board of Control for Cricket in India about its decision to "unilaterally" terminate IMG's services in future IPLs and warned that it would invite a long-drawn legal war as well as harm their public image.
Pawar, in a letter to his successor, Shashank Manohar, made it clear that the 10-year contract with IMG was approved at all appropriate levels during his tenure as the BCCI president till September 2008.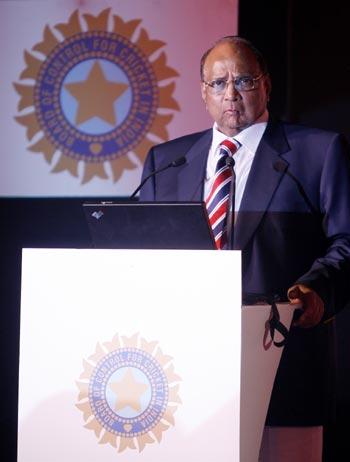 Pawar's letter has given IMG a big boost ahead of the IPL's Governing Council meeting, in Mumbai on Wednesday, in which the matter is expected to come up for discussion.
"I am very disturbed to hear about the termination of IMG contract by the honorary secretary, BCCI.
"Reading the contents of the termination, I feel that this unilateral move by the BCCI will put the BCCI in jeopardy," Pawar said in the letter written in his capacity as president of the Mumbai Cricket Association.
"Not only will this lead to a prolonged legal battle but it will also show us in bad light in public," said Pawar, who is also the chairman of the 2011 Central Organising Committee of the World Cup.
BCCI snapped ties with the IMG citing the members of its Working Committee were of the opinion that the latter was overcharging the Board.
IMG received close to Rs 43 crore for IPL 1, held in 2008, and is set to receive Rs 33 crore for this year's IPL 2, held in South Africa.
"I always believed that the Board believes in continuity and undoing what was done consciously and in the best interests of Indian cricket is neither desirable nor appropriate," Pawar said. 
Pawar also said such actions would jeopardise the investments of other stakeholders in the IPL and hoped that Manohar and the other BCCI officials would take the correct decision in the overall interest of the Board. 
"In IPL there are many stakeholders and as such anything we do that may jeopardise their investments will show BCCI in a bad light. With the overwhelming success of the IPL it is our duty to protect not only BCCI but also its stakeholders".  
He also informed that franchise owner Mukesh Ambani had sent him a letter on the issue. 
"I got some calls and letters from stakeholders. I am attaching a letter which I received from Shri Mukesh Ambani. I want to bring on record my views and I hope you and the BCCI will take the right decision in the overall interest of BCCI."
Related letters:
Letter by Sharad Pawar
Letter to IMG
IMG reply
Bommidala's letter to Lalit Modi
Mukesh Ambani letter
Sony letter
RCB letter
DC letter
KKR letter
KXIP letter
RR letter