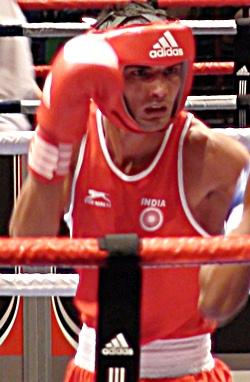 Jai Bhagwan pulled off a come-from-behind victory over Ireland's Eric Donovan to enter the pre-quarter-finals on Friday after Thokchom Nanao Singh pummeled Azerbaijan's Elvin Mamishzade in his opening bout at the World Boxing Championships in Milan.
While Jai (60 kg) beat his opponent 11-6, Nanao (48 kg) demolished Mamishzade 21-6 late Thursday night to make it to the second round of the mega-event.
Both Jai and Nanao were silver medallists at the Asian Championships in June.
It was sweet revenge for Jai, who lost to Donovan by a point at the European Grand Prix in the Czech Republic in May.
Fighting from long range initially, Jai was trailing 1-4 at the end of the first round but made a late recovery to come through eventually.
"I was counterpunching to start with but once I knew that I was trailing, I went for an all-out attack," Jai said after the bout.
Jai's recovery started in the second round when he narrowed the gap in scoreline to 3-5 before out-punching his opponent in the third round.
"I kept my guard and managed to connect some hard ones in the final round. I am very happy because I had lost to him in a very close bout in May," said the 23-year-old, who will take on Germany's Eugen Burhard in the pre-quarters on Sunday.
Earlier on Thursday night, 18-year-old Nanao, competing in only his second senior international event, decimated Mamishzade.
The diminutive Manipuri negated his strongly-built opponent's longer reach with aggressive uppercuts and straight left jabs.
Nanao led 7-2 at the end of the first round and extended it to 16-5 in the next three minutes. The Indian continued his domination in the final round and score five quick points and wrap up the bout.
"Nanao has such quick reflexes that even his short height doesn't hamper him much," said national coach Gurbax Singh Sandhu.
Nanao has a tough bout on hand in the second round as he will square off against Pongprayoon Kaeo of Thailand on Saturday.
Kaeo defeated Kapezov Adlet of Kazakhstan in his opening bout. The former World youth champion had lost a close bout to the Thai in the finals of the Asian Championships.
Also on Saturday, middleweight top seed Vijender Singh will open his campaign by taking on Kazakhstan's Belgibayev Azamat in the second round. The Indian had a bye in first round.
"I have trained hard and I am confident of doing well here. I am sure I can pull it off," said the 23-year-old World No 2, who lost in the very first round in the previous edition of the event in Chicago in 2007.
Indians have had a largely disappointing campaign in the event so far with four of them bowing out in the first round.
Asian champion Suranjoy Singh (51kg), Jitender Kumar (54kg) and Manoj Kumar (64kg) are the pugilists who lost their opening round bouts.