Two greats of the game, George Headley and Alan Knott, were formally inducted into the ICC Cricket Hall of Fame during the second ODI between England and Australia at Lord's, London on Sunday.
The Hall of Fame, run in association with the Federation of International Cricketers' Associations (FICA), recognises some of the truly great players from cricket's long and illustrious history.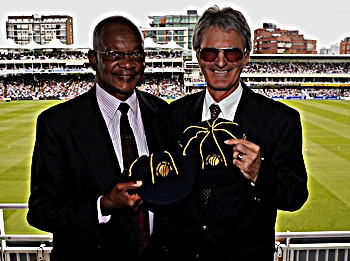 Commemorative caps were presented to Headley's son Ron, who himself played two Tests and one ODI for the West Indies, and Knott by the International Cricket Council president David Morgan, ICC director and England and Wales Cricket Board chairman Giles Clarke, Marylebone Cricket Club chairman Charles Fry, Marylebone Cricket Club president Derek Underwood, former MCC president Mike Brearley and former ECB chairman Lord MacLaurin of Knebworth.
Headley was the first great black batsman to emerge from the West Indies. In his 24-year Test career from 1930 to 1954, he scored 2,190 runs in 22 Tests at an average of 60.83 which is the third highest average by any player with a completed career behind fellow Hall of Famers Don Bradman and Graeme Pollock.
He scored five half-centuries and 10 centuries (eight against England and two against Australia), including a century in each innings (106 and 107) against England at Lord's in 1939 which made him the first batsman to achieve the feat at that ground. His rate of scoring centuries one century for every four innings is bettered only by Bradman.
In his debut series against England in 1930, the right-hander who was born in Panama in 1909 and had come to Jamaica to learn English aged 10, scored 704 runs in eight innings of four Tests, including scores of 21, 176, 8, 39, 114, 112, 10 and 223.
Headley's career-best 270 was also against England at Sabina Park in March 1935.
After playing 16 Tests between 1930 and 1935, Headley played the last six Tests in 19 years. In 1948, Headley became the first black player to captain the West Indies while his final appearance for the West Indies made him the oldest West Indian Test cricketer at 44 years and 236 days.
Headley was named Wisden Cricketer of the Year in 1934.
Besides his son Ron, George's grandson Dean played 15 Tests and 30 ODIs for England in the last decade. It was the first of only two instances of a grandfather, father and son playing Test cricket, the other being Jahangir Khan, Majid Khan and Bazid Khan.
Ron, upon receiving his late father's cap from ICC Director Giles Clarke, said: "My father was the first player to score a century in each innings of a Test at this historic ground, so I am delighted to be here today to accept the cap on behalf of the Headley family.  2009 is also my dad's century year, so it makes this award even more special.
"Dad's talents make him perhaps the greatest West Indian batsman ever, he was a genius with the bat who is often compared on an equal footing to Don Bradman.  His impact on cricket in the Caribbean cannot be overestimated and he will be fondly remembered on both sides of the Atlantic."
Knott, the 63-year-old former England wicket-keeper, made his Test debut against Pakistan in August 1967 and played his 95th and last Test against Australia in September 1981. During this period, Knott scored 4,389 runs at an average of a little over 32 and dismissed 269 batsmen. In one of his most memorable innings, Knott's scored 73 not out in four hours to help Colin Cowdrey save the series against the West Indies at Georgetown in 1967-68.
Knott represented Kent (1964-1985), MCC (1965-1977) and Tasmania (1969-70) in domestic cricket and scored 18,105 runs at an average of a little under 30 and dismissed 1,344 batsmen in 511 first-class matches.
Knott also played in the 1975 World Cup as he represented England in 20 ODIs in which he scored 200 runs and dismissed 16 batsmen.
Knott was named Wisden Cricketer of the Year in 1970.
After receiving his cap from MCC President Derek Underwood, Knott said: "It is a tremendous honour to be inducted into the ICC Cricket Hall of Fame, which features so many of my heroes and friends, past and present.
"To be recognised on the same day as George Headley is a great pleasure, as I have been friends with his son Ron throughout my career.  Indeed, we toured together in 1965 to the West Indies with the International Cavaliers, a group that included many who feature in the ICC Cricket Hall of Fame, such as Jim Laker, Colin Cowdrey and Fred Trueman.
"It is also wonderful to be at Lord's and be presented with my cap by Derek Underwood, who I have known since I was 11 years old.  What a player he was as well!"
The cap presentation ceremony is a key part of the celebrations to mark the ICC's centenary year as it acknowledges the greats of the game and the contributions they have made to ensure cricket is a great sport with a great spirit.
Other ICC Cricket Hall of Famers to have received their caps so far in 2009 are legendary New Zealand all-rounder Richard Hadlee, former Australian greats Rod Marsh, Ian Chappell, Allan Border, Neil Harvey and Richie Benaud, former West Indies players or their family members or representatives – batting greats Clive Lloyd, Vivian Richards and Rohan Kanhai, champion all-rounder Garfield Sobers, the three Ws Everton Weekes, Clyde Walcott and Frank Worrell, opener Gordon Greenidge, fast bowlers Michael Holding, Malcolm Marshall and Andy Roberts, and star off-spinner Lance Gibbs – also ex-South Africa batsmen Barry Richards and Graeme Pollock, former Pakistan stalwarts Javed Miandad and Hanif Mohammad and England's Alec Bedser, Colin Cowdrey, Tom Graveney, Peter May, David Gower, Derek Underwood, Graham Gooch, Harold Larwood, Denis Compton, Frank Woolley, Sydney Barnes, Sir Ian Botham, Geoffrey Boycott, Wilfred Rhodes, Fred Trueman Sir Leonard Hutton, Sir Jack Hobbs, Jim Laker and Brian Statham.
Further cap presentations will be made to the remaining 14 Hall of Famers during the course of the year and a limited number of new inductees, in addition to the 55 already chosen, will be named at this year's LG ICC Awards.