The emphatic win over India in a dead rubber gives no psychological edge to Sri Lanka and the two teams go into the ODI tri-series final on equal footing, host skipper Kumar Sangakkara said on Sunday.
Sri Lanka decimated India by 139 runs in a league encounter on Saturday but Sangakkara brushed aside suggestions that the win would give the hosts any advantage.
"Not really. Every victory is done and over. You have just got to get ready and face the next challenge. We have won one or two games here. So, we have to get prepared for the final," Sangakkara said in a pre-match press conference.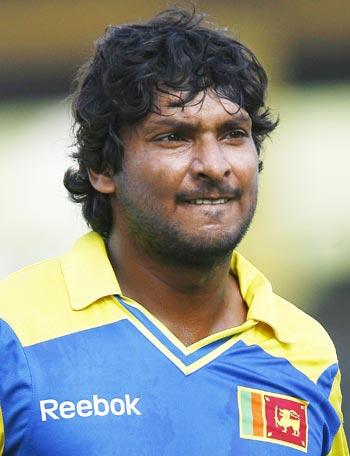 The Lankan captain also played down the luck factor, saying winning the toss would count only if the team manages to put in a good show.
"My theory of luck is simple. If you are prepared and you train very hard then the need for luck is minimised. The toss is not something you can control but what you can control is how you react to it and what do you do after it," he said.
Sangakkara said in-form veteran Sanath Jayasuriya, who scored a brilliant 98 last night, combined with a strong middle order were his team's strengths.
"In the middle order (Thilina) Kandamby and others are coming good. And also Sanath Jayasuriya coming back and scoring runs. I think those three factors are very important for us for coming forward especially in the sub-continent conditions," he said.
On the bowling front, Sangakkara lauded pacer Lasith Malinga's performance.
"Malinga is equally deadly with the new and old ball. In these conditions when the ball is slightly older, he seems to get a bit of reverse swing very early. I think that is his strength. We just want to exploit each bowlers and each player's strength every time we use them," he said.
Asked if ace off-spinner Muttiah Muralitharan, who is nursing a minor knee injury, would return to action on Monday, Sangakkara said, "He is fit and ready to go. We will see how he is. This evening we will decide whether he is available. 
"We have a very important Champions Trophy coming up, we don't want to rush him into anything too soon," he added.
India had beaten Sri Lanka in an ODI series the last time they were here but Sangakkara said the Lankans don't have revenge on mind.
"No revenge against India. I think you learn from your past games and you move on and you face newer teams, different combinations. So, the past is past really. You cannot dwell on it too much and get lost in it. You have got to be prepared for the present and the future," he said.
The series has not managed to bring in the crowds so far with the stadium remaining mostly empty. Sangakkar blamed it on lack of facilities for the paying public.
"You are never going to match the numbers for Twenty20 I think. So, we have got to accept it. There are lots of people watching on TV at home and people who come here want more facilities at the ground," he said.