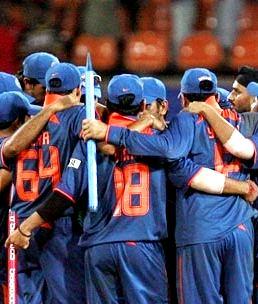 The ICC [ Images ] Champions Trophy [ Images ] is finally set to kick-off. The tournament, originally scheduled to be held in Pakistan last year, was forced out of the country because of security concerns and will now be staged in South Africa [ Images ], from September 22 to October 5.
The top eight teams will play three matches in the group stages following which the top teams from each group will qualify for the semi-finals.
Fourth seeds India [ Images ] are pitted in a tough group comprising 50-over World champions Australia [ Images ], Twenty20 [ Images ] World champions Pakistan and West Indies [ Images ].
Favourites India start their campaign with a high-voltage clash against arch-rivals Pakistan in Centurion, on September 26.
Check out the complete fixtures:
ICC Champions Trophy 2009

Group A: Australia (1), India (4), Pakistan (5), West Indies (8)
Group B: South Africa (2), New Zealand [ Images ] (3), Sri Lanka [ Images ] (6), England [ Images ] (7)

Date

Match

Venue

Time

Sep 22

Group B - South Africa vs Sri Lanka (D/N)

Centurion

1800 IST

Sep 23

Group A - Pakistan v West Indies (D/N)

Johannesburg

1800 IST

Sep 24

Group B - South Africa v New Zealand

Centurion

1300 IST

Sep 25

Group B - England v Sri Lanka (D/N)

Johannesburg

1800 IST

Sep 26

Group A - Australia v West Indies

Johannesburg

1300 IST

Sep 26

Group A - India v Pakistan (D/N)

Centurion

1800 IST

Sep 27

Group B - New Zealand v Sri Lanka

Johannesburg

1300 IST

Sep 27

Group B - South Africa v England (D/N)

Centurion

1800 IST

Sep 28

Group A - Australia v India (D/N)

Centurion

1800 IST

Sep 29

Group B - England v New Zealand (D/N)

Johannesburg

1800 IST

Sep 30

Group A - Australia v Pakistan

Centurion

1300 IST

Sep 30

Group A - India v West Indies (D/N)

Johannesburg

1800 IST

Oct 2

1st Semi-Final (D/N) - (A1 v B2)

Centurion

1800 IST

Oct 3

2nd Semi-Final (D/N) - (B1 v A2)

Johannesburg

1800 IST

Oct 5

Final (D/N)

Centurion

1800 IST
Photograph: Reuters