Australian skipper Ricky Ponting expects more cricketers to follow Andrew Flintoff and Andrew Symonds in going freelance.
Flintoff has rejected an incremental contract with his country and is reportedly been the target of interest from South Australia and Northerns in South Africa.
Symonds is considering Twenty20 options around the world after his national career stalled because of disciplinary issues.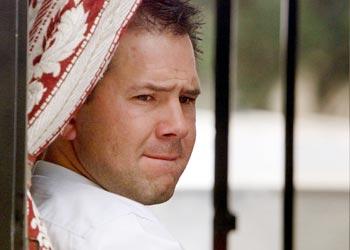 Ponting said while he didn't know the reasons behind Flintoff's decision, but he expected other players to go down that road.
"I think it probably could happen more and more especially with guys retiring from Test match cricket and wanting to play only the shorter versions of the game," The Australian quoted Ponting, as saying.
"You can't begrudge the players for doing that, especially someone like Flintoff, who's played 70-odd Test matches and it's his body that's basically forced him into retirement from Test cricket anyway," he added.
Ponting said it would be interesting to see whether England continued to select Flintoff once he recovers from knee surgery.
...And there is more to come
Meanwhile, having retired from Twenty20 cricket and opting to concentrate his energy and skills on the longer versions of the game, Ponting has warned England and other international sides that he can expect telling scores from his long blade.
''My decision to retire from international Twenty20 was to give me the best chance of playing both 50-over cricket and Test match cricket a little bit better, just to free up a couple of extra weeks in the calendar, to get that break, to come back and feel fresh and play better,'' said Ponting.
''So I guess looking back at it it's worked quite well so far, although the proof will be in the pudding in the next couple of years.
"Looking at the next 12 months there's a chance that when I don't play Twenty20 internationals that I'll probably get another four weeks off. Some of the guys in our change room right now would like to have four weeks off in the calendar, trust me,'' the Sydney Morning Herald quoted him, as saying.