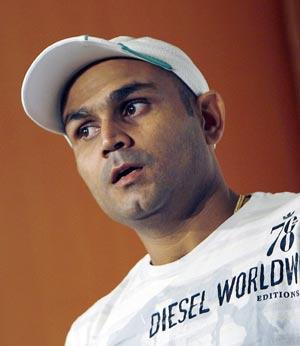 Dashing opener Virender Sehwag has stepped down as captain of Indian Premier League team Delhi Daredevils. Gautam Gambhir was named his replacement, and will lead the side in next month's Champions League Twenty20.
Dinesh Karthik will be Gambhir's deputy.
Sehwag, who is currently nursing a shoulder injury, cited his desire to focus on batting as the reason for stepping down.
He thanked GMR for accepting his request, saying he would now solely focus on his batting.
"I would like to thank GMR for their understanding in accepting my request to step down. Personally, I would like to concentrate on my own batting and contribute to the team," he said.
"Viru has been a source of great strength and inspiration to the team. When he expressed a desire to step down in order to fully focus and concentrate on batting, we respected his decision and accepted his request," Daredevils owner GMR's chairman Srinivas Bommidala said.
Gambhir, on his part, said he would draw from the experience of leading Delhi in the Ranji Trophy.
"I am delighted at my selection as captain of Delhi Daredevils and I am committed to deliver my best. I have always looked up to Viru. He has been a guide and friend for me. It is always difficult to fit into the shoes of someone as illustrious as him," he said.
"I have led Delhi in the past in Ranji Trophy and we won the title. I have also had the opportunity to lead the Delhi Daredevils in IPL-2 when Viru was injured. It was an enriching experience and, hopefully, I can put into practice all that I have learnt," he added.
Gambhir said he would also seek Sehwag's advice as and when needed.
"I can always turn to Viru for any advise, as also to the other seniors in the team. We have had great camaraderie in the side and this will help reach greater heights," he said.
Karthik, who has led Tamil Nadu in Ranji Trophy, said he would give all he can to the new job.