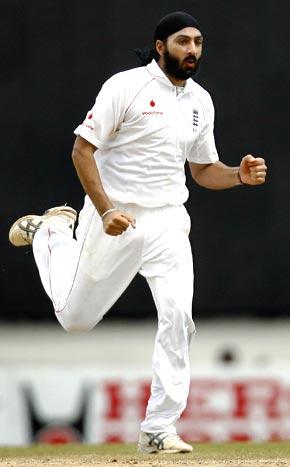 England left-arm spinner Monty Panesar's Indian roots have earned him the honour of being a part of the October 29 Queen's Baton Relay to launch next year's Commonwealth Games in Delhi.
Panesar's former agent Vic Sethi, who is a member of the UK launch arm of the organizing committee, said the left-armer was chosen to add an Indian flavour to the much-awaited ceremony at the Buckingham Palace.
"We thought that someone from the UK was needed because the Queen, the head of the Commonwealth, is British; we needed a link to India. I think Monty was perfect because he is one of the first British Sikh sports stars to wear the turban and the full beard," Sethi was quoted as saying by British media.
The baton will be carried from the palace on an international journey before finally touching down Delhi next year.
"Monty was very proud to have been asked because he has links to India and, obviously, to Britain too. I imagine it was an honour and I know he will do very well in the role," Sethi said.
The launch ceremony for the Delhi 2010 Baton will also be attended by Indian President Pratibha Patil, MCichael Fennell, president of the Commonwealth Games Federation and Suresh Kalmadi, president of the Indian Olympic Association.