Kolkata Knight Riders scored a comprehensive 24-run win over defending champions Deccan Chargers in their Indian Premier League match at the Eden Gardens on Thursday.
In a match featuring teams that had played the tournament opener - in Navi Mumbai on March 12 - the result was the same, a victory for Kolkata Knight Riders.
Chasing a formidable target, the holders made an aggressive start but there was a considerable slow down in their scoring rate in the middle overs - partly due to the wicket and partly owing to some impressive bowling by Kolkata bowlers. 
And that slow down cost the holders the match. 
The visitors eventually wound up at 157 for five in their stipulated 20 overs. While the home team had scored 65 runs in their last five overs, the visitors managed just 32.
And therein lay the difference.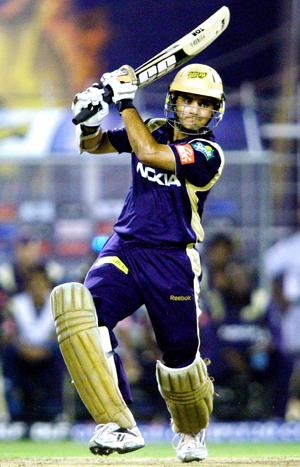 For the team from Kolkata, it was their fourth win in eight matches, a result that moved them up to fifth in the table and kept alive their hopes of reaching the last four.
It also improved their record against Deccan Chargers to four wins - including both the matches in this edition - against just two losses.
As regards the team from Hyderabad, it was their fourth defeat in seven matches, and third away from home in succession - after similar results against Rajasthan Royals and Mumbai Indians.
The defending champions started their chase with an appaling record to start with, having won just 31 per cent of the matches batting second and having lost both their previous tow matches in this edition (while chasing).
Ganguly's ploy of starting the bowling with Mohnish Parmar backfired as Herschelle Gibbs helped himself to three boundaries in the opening over.
The South African, who has got into double-figures in all matches thus far but had a highest score of just 45, welcomed Shane Bond - back after sitting out against Delhi Daredevils - with a massive six over extra cover.
Adam Gilchrist (9) hit successive boundaries off Ajit Agarkar before the latter had his revenge, having the former caught by Cheteshwar Pujara at midwicket.
In came Monish Mishra (29) and he got into the rhythm soon with a boundary each of Bond and Agarkar.
Murali Kartik, one of the most economical bowlers in the tournament, was introduced into the attack in the final over before the easing of the field restrictions and his opening over cost Kolkata 13 runs, with Mishra hitting successive boundaries over mid-on.
Mishra continued his onslaught with a couple of more boundaries in Angelo Mathews' opening over.
After six overs, the defending champions were 59 for two, way ahead of the home team's score (46 for two) at that point.
Mathews dropped Gibbs off his own bowling in the his second over - the ninth of the innings - but a rash shot by Mishra in the next ball ensured him his first wicket, Manoj Yiwary making no mistake with the catch at long-on.
Mishra hit six boundaries during his 16-ball knock and shared a 46-run stand for the second-wicket with Gibbs.
Andrew Symonds had a reprieve when Parmar dropped him (when on six) off his own bowling.
And the Australian celebrated the same with three boundaries off Parmar in the bowler's next over.
Gibbs reached his fifth IPL fifty, his first in this edition, in the same over.
However, Bond had him caught by David Hussey in the next over to bring the home side back into the match.
Gibbs' 45-ball knock comprised of five boundaries and a six.
Rohit Sharma (2) was cleaned up by Kartik in the next over.
Going into the second strategic time out (after 16 overs), the team from Hyderabad needed 54 runs off four overs.
And it was by then a lost cause - they required 34 off the final over by Gayle.
Symonds made a 37-ball 45 and was out with just two balls left.
But it was too little, too late.
Earlier, an impressive half century by captain Sourav Ganguly helped Kolkata Knight Riders to a formidable total.
In their stipulated 20 overs, the home team made 181 for six.
Ganguly scored his second fifty of the tournament to lead from the front. His 54-ball 88 comprised of nine hits to the fence and five huge ones over it.
The former Indian captain started convincingly, seemed a tad out of touch in the middle of his stay before ending his knock on an emphatic note.
David Hussey used the long handle to a good effect to make the other significant contribution in the Kolkata innings.
The Australian's 27-ball 31 included a boundary and a couple of huge sixes and he was involved in a 78-run fourth wicket partnership with Ganguly - a stand that gave the Kolkata innings the solidity it required.
The Kolkata innings started on an aggressive note with Sourav Ganguly hitting two boundaries off the first three balls (off Kemar Roach) of the innings, the first over square leg and the second past point.
Chris Gayle (4) joined the party flicking Jaskaran Singh wide of short fine leg for his first boundary in the next over.
However, that turned out to be the lone scoring shot for the West Indies captain, Andrew Symonds having him caught by Roach at long-off.
Cheteshwar Pujara (17) eased the pressure to an extent scoring successive boundaries in the same over.
But the batsman soon became Symonds' second victim, caught by Pragyan Ojha at mid-off.
And as the field restrictions eased (after six overs), the team from Kolkata were in a spot of bother at 46 for two. 
Roach was reintroduced into the attack and Ganguly welcomed him with a massive six over long-on followed by a boundary past the third man.
At the first strategic timeout, taken after eight overs, the Kolkata innings had steadied to 68 for two.
But they lost their third wicket soon after resumption, Manoj Tiwary (5) dragged an Ojha delivery onto his stumps to give the left-arm spinner his eighth wicket of the tournament.
The skipper again came forward to ease the pressure with a couple of boundaries from Harmeet Singh.
He completed his second half-century of the campaign with a massive six (over deep midwicket) off Ojha.
He celebrated the same with another boundary, this time over the bowler's head.
Going into the second strategic timeout, taken after the 14th over, the hosts, had regained lost ground to be at 106 for three.
Both batsmen survived missed stumpings after resumption, Ganguly off Venugopal Rao and David Hussey (31) off Ojha.
Then Ganguly went on the offensive, hitting three sixes off an Ojha over, the first two over deep backward square leg and the third over deep midwicket.
Ojha had the final word though, Ganguly going for yet another biggie managed to hole out to Rohit Sharma.
Ojha's final over began with a missed stumping, cost 21 runs but ended with Ganguly's dismissal.
Angelo Matthews (4) holed out to Herschelle Gibbs at long-off (off Jaskaran) and two balls later, Gibbs took yet another catch to send back Hussey.
However, the home team had made enough runs by then to help their bowler's cause - 65 runs came off the last five overs.
Earlier, Kolkata Knight Riders' captain Sourav Ganguly won the toss and elected to bat.
"We put runs on the board and the wicket should do a bit later on," reasoned Ganguly, adding, "It's going to be slow but it is a good wicket."
Ganguly's Deccan Chargers' counterpart, Adam Gilchrist, seemed unperturbed.
"Whatever you got to do you have got to do it well," he said. But Gilchrist did refrain from mentioning the total they would like to chase.
"I am not sure," he said, adding, "And in this format you cannot predict."  
Teams:
Deccan Chargers: Adam Gilchrist (captain), Mohnish Mishra, Herschelle Gibbs, Andrew Symonds, Rohit Sharma, T Suman, Venugopal Rao, Jaskaran Singh, Harmeet Singh, Pragyan Ojha, Kemar Roach.
Kolkata Knight Riders: Sourav Ganguly (captain), Chris Gayle, Manoj Tiwary, Cheteshwar Pujara, David Hussey, W Saha, Angelo Mathews, Ajit Agarkar, Murali Kartik, Shane Bond, Mohnish Parmar.