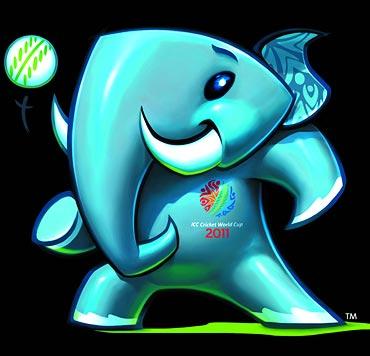 "Appu", the elephant was the mascot of the 1982 Asian Games in New Delhi and almost three decades down the line, the pachyderm has been chosen to perform the same role at the ICC Cricket World Cup 2011 to be jointly hosted by India, Sri Lanka and Bangladesh.
The mascot was unveiled at a function in Colombo, on April 2 and the World Cup organisers on Monday announced that cricket fans based in the host nations would be able to participate in a contest to name the mascot.
"The idea of our mascot is to crystallise the feelings and action of the sport and the fans in a graphic form that reflects the visceral tone and emotion that Cricket creates in its followers, especially in an event like the CWC.
"It also emphasises the enthusiasm of youth both in general and for Cricket itself, especially on the sub-continent with its massive and dedicated following. He's stylised to give an instantly recognisable graphic strength so that with exposure his bold lines and strong colouring will instantly create a friendly face for the CWC," tournament director Ratnakar Shetty said in a media release.